Training in Medical Teaching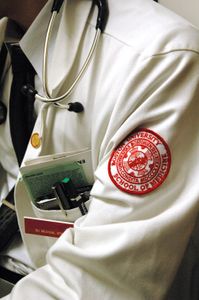 OVERVIEW:
Training in clinical teaching methods consists of (1) a core bi-weekly seminar on teaching methods and (2) a series of teaching practicums in which fellows perform supervised teaching in a variety of settings.
TEACHING SEMINAR:
GIM fellows  meet twice monthly for 90 minute seminars which address education theory and skills applicable to clinical teaching in a variety of clinical settings and educational environments (one-on-one supervision, small group discussion and lectures). Preselected topics compliments fellow selected and presented topics. Table 1 contains a sample list of the topics the fellows may cover in one year of the seminars and the topics are covered over a two-year cycle. All fellows participate in the teaching seminar during the first semester in both years of their fellowship.  Those fellows who are in the education track also participate in an advanced teaching seminar during the second semester of each year.
TEACHING PRACTICUMS:
The teaching practicums for fellows take place at BMC and at the Boston VA, regardless of the fellows' outpatient clinic or office site.   The degree of participation depends on whether a fellow is in the medical education track or following another concentration.
All fellows:
At the medical school, all fellows participate in a 6-week course teaching physical diagnosis or history taking to second year medical students, under the guidance of the faculty coordinator at the clinical site. Opportunities also exist to precept small group problem-based-learning curriculum for one semester.
Education track fellows:
Education track fellows are required to participate in additional teaching practica beyond the medical student teaching described above.  These experiences are termed co-attending experiences where fellows are paired with a senior clinical educator in either the inpatient ward or the outpatient primary care setting.  In the ambulatory clinical arena, fellows supervise a group of residents in their primary care continuity clinic training site one half-day per week for 6- 12 months over the course of the fellowship.  In the inpatient ward setting the co-attending experience occurs as a three week-long block in the traditional inpatient (ward) settings.  There is also an additional opportunity in the Ambulatory Diagnostic and Treatment Center (ADTC), an ambulatory block rotation at the Boston VA.
Supervised teaching occurs daily in each of these practicums. In all venues, supervising faculty and fellows frequently are both present during patient care supervision activities. They alternate roles in observing the "teaching" decisions made during the encounters. Early in the practicum, the fellow assumes the role of observer more frequently, later transitioning to the predominant "attending" supervisor for the trainees. Regular analysis and debriefing occur between the co-teachers in order to improve one's understanding of teaching process and improve technical skills. The focus of the faculty-fellow interactions is to enhance observational skills, motivational techniques, pacing of teaching, and effective use of teaching methods. An article describing this technique is found here on PubMed. Altogether, fellows spend 10-20% time in teaching seminar and practicum experiences.
---
TABLE 1. CLINICAL TEACHING METHODS SEMINAR SESSIONS-Year 1
| | |
| --- | --- |
| Session # | Topic |
| 1. | Teaching physical diagnosis |
| 2. | Peer Coaching/Shared Teaching: Observing and being observed by colleagues |
| 3. | Small group teaching skills |
| 4. | Bedside teaching |
| 5. | Feedback:  Formative Evaluation |
| 6. | Peer Observation |
| 7. | Diagnostic Reasoning and Microskills of Teaching |
| 8. | Large group teaching / lecturing skills |
| 9. | The Reluctant Learner |
| 10. | Education Journal Club |
| 11. | Evaluation Methods |
Family Medicine.
FM Fellows also participate in teaching through observed precepting, inpatient attending rounds, and didactic, workshop, and Web-based teaching during the FM six-week third year clerkship. Research fellows may take month-long inpatient medicine practicums where they conduct "Attending Rounds" under faculty supervision and take part in other teaching experiences such as "Morning Report." Fellows are expected to participate in a three-session seminar for third year medical students on Evidence Based Medicine. They also attend the General Pediatric Fellowship educational seminar that is similar in style to that in the General Internal Medicine Fellowship, although with a somewhat different content. Finally, all fellows participate in practicums of medical student teaching, including courses for Medical Interviewing and Physical Diagnosis and Integrated Problem Solving (a seminar course that uses patient cases to illustrate issues in patient care and the application of biomedical knowledge to patient care). Optional practicums for all fellows include experiences in medical consultation, emergency medicine, and public health. Altogether, the FM Fellows spend 10-20% time in teaching seminar and practicum experiences.