Seminars and Conferences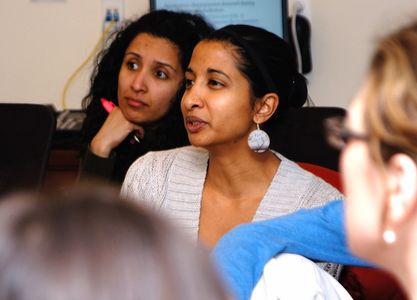 The fellowship has a robust series of seminars and conferences that complements the SPH courses and provides an opportunity for learning, interaction and feedback from other fellows and faculty members.
Fellowship Specific Meetings
RESEARCH LITERATURE APPRAISAL COURSE
This course is a weekly meeting with GIM and FM Section faculty where fellows critically review a published article, using published JAMA guidelines. Through this training, fellows learn to sharpen their methodological skills and their ability to read the medical literature critically through the evaluation of diverse research methodologies and subjects.
FELLOWS REPORT
This monthly research-in-progress is an opportunity for each fellow to present his/her own research, in any phase, to peers. Three fellows present at each meeting. The seminar is designed to help nurture the fellow's research during each of its phases. It complements the GIM Section's Research-In-Progress Seminar, described above.
ACADEMIC SEMINAR
The monthly Academic Seminars cover selected topics that relate to the fellows' future academic career including grant writing, writing an abstract, presenting an abstract, presenting a poster, writing a manuscript, attending a national conference, networking, resume writing, and academic primary care careers.
EDUCATION SEMINAR
GIM fellows currently meet for 90 minute seminars, twice monthly in which they address education theory and skill applicable to clinical teaching in a variety of clinical settings educational environments (one-on-one supervision, small group discussion and lectures). Preselected topics compliments fellow selected and presented topics.  The topics covered in the teaching seminars are covered over a two-year cycle. Fellows participate in the teaching seminar in both years of their fellowship
Section-Wide Meetings
RESEARCH-IN-PROGRESS MEETINGS:
These are bimonthly meetings where GIM Section fellows and faculty present various stages of their research projects for critical review. This is an opportunity to present your own research-in-progress or critically review the presentations by GIM faculty, staff and fellows (either at the conceptual, design, data collection, or analysis phase) to a diverse group of researchers for the purpose of discussing specific problems and questions. The Department of Family Medicine conducts weekly Research-In-Progress meetings where fellows and faculty discuss research progress.
GENERAL INTERNAL MEDICINE GRAND ROUNDS
This weekly conference is attended by the GIM section clinical faculty, fellows, and residents,  and consists of lecturers (from within BUMC and outside) who present talks relevant to primary care.  Topics are typically clinical and include Ambulatory M& M conferences as well as other topics related to public health and health policy. Click here for GIM Grand Rounds podcasts.