Connecting FAQ
You receive the message "File Path Not Found" on a PC
The main cause for this error is not having properly authenticated into a special shared directory for Grants.gov. To resolve this issue, map a network drive using the following instructions: Mapping a Network Drive to Grants.gov.
You receive an "Access Denied" error on a PC
First ensure that you have been granted permission to access the folder. Please email Research Systems, or contact either Jim Vlachos 617-414-1299  or Adam Kozaryn at 617-638-4563.
Assuming this has been done, the most likely environment cause of this error is if you are already logging into the bumc.bu.edu with credentials other than Active Directory (AD). To resolve the problem, disconnect any mapped drives you have to bumc.bu.edu and reconnect with your AD account. Your AD user account has all the same permissions as your BUMC account, so no access problems should result. Below are instructions for disconnecting mapped drives and remapping them correctly.
First disconnect your bumc.bu.edu mapped drive(s). Be sure to record the mapped drive information before deleting them so you can reestablish the connections if need be.
Next you will want to remap the same drive(s), this time using your AD credentials. You can use the Mapping a Network Drive to Grants.gov instructions, noting that you will want to change the folder path in step 4 to the path and drive letter you recorded when you disconnected the drive.
You navigate to your Grants.gov user folder but do not find any subfolders on a Mac
This problem occurs when you have logged into bumc.bu.edu with your BUMC user account. To resolve the problem log in with your AD user account (see the screen shot below).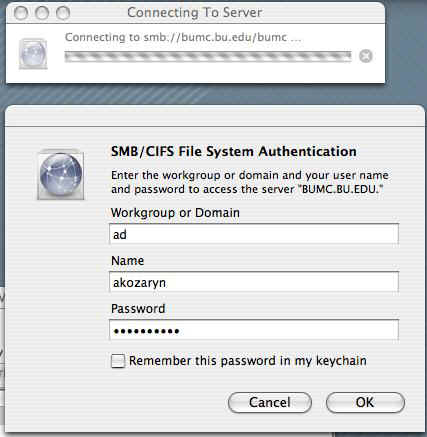 Back to Top
There is a known issue copying files directly from your personal computer to the Ready for Submission folder when using a Mac OS X machine. To resolve the issue, first copy the file to the Working folder then move the file to the Ready for Submission folder.
If you are having trouble moving from the Working folder to the Ready for Submission folder, see the helpful tip below. For background reference, this limit is caused by the inability of the Mac OS to resolve highly granular permissions on a Microsoft Windows-based file server using Active Directory.
Additional Problems
If you are having problems with your folder please email Research Systems or contact BUMC Service Desk by e-mail or phone at (617) 638-5914.