Yoga Use in the United States
Yoga originated in India over 2000 years ago as a complex system of physical, moral, and spiritual principles.  Yoga means 'unify' in Sanskrit and its traditional purpose was to help the practitioner attain unity of "mind, body, and spirit."  Hatha yoga became popular in the United States during the 1960s.  Hatha yoga consists of three core components:  physical postures (asanas), breathing techniques (pranayama), and an inward meditative focus.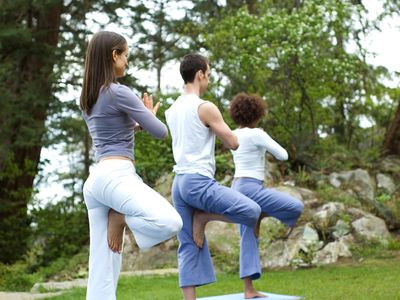 Dr. Saper and colleagues published the first analysis of U.S. yoga use in their 2004 publication in Alternative Therapies in Health and Medicine.  Data from a 1998 national survey of American CAM use were analyzed and they found that 3.8% of the U.S. adult population used yoga in 1998. Twenty-three percent of yoga users were non-white and 21% had an annual income less than $20,000.  Ninety percent of respondents who used yoga for specific health conditions perceived it as helpful.  Back pain was the most common health condition for the use of yoga: 21% of yoga users reported using yoga for back pain.  Gurjeet Birdee MD of Harvard Medical School, Dr. Saper, and colleagues also analyzed data from the 2002 National Health Interview Survey showing that yoga use is increasing: 5.1% of American adults reported using yoga in 2002, making it the fifth most common CAM therapy.
Select Resources: