Robert Lafyatis, M.D.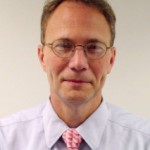 Professor of Medicine
Dr. Lafyatis's research group investigates pathogenic mechanisms in systemic sclerosis. This includes three areas of primary focus. The first is fibrosis and how it is regulated through cytokine mediators such as IL-13 and TGF-beta. The second is innate immunity, and how endogenous and exogenous innate immune stimuli regulate fibrosis. The third area is investigation of how innate immune stimuli regulate vascular injury in systemic sclerosis. The laboratory makes extensive use of and patient derived clinical materials, using immunohistochemistry, RT-PCR and microarray analyses of skin samples to understand pathogenesis, to identify biomarkers and to develop more relevant animal models of systemic sclerosis.
Representative Publications
1. Kissin EY, Merkel PA, Lafyatis R. Myofibroblasts and hyalinized collagen as markers of skin disease in systemic sclerosis. Arthritis Rheum 2006;54(11):3655-60.
2. York MR, Nagai T, Mangini AJ, Lemaire R, van Seventer JM, Lafyatis R. A macrophage marker, Siglec-1, is increased on circulating monocytes in patients with systemic sclerosis and induced by type I interferons and toll-like receptor agonists. Arthritis Rheum 2007;56(3):1010-20.
3. Aliprantis AO, Wang J, Fathman JW, Lemaire R, Dorfman DM, Lafyatis R, et al. Transcription factor T-bet regulates skin sclerosis through its function in innate immunity and via IL-13. Proc Natl Acad Sci U S A 2007;104(8):2827-30.
4. Bayle J, Fitch J, Jacobsen K, Kumar R, Lafyatis R, Lemaire R. Increased expression of Wnt2 and SFRP4 in Tsk mouse skin: role of Wnt signaling in altered dermal fibrillin deposition and systemic sclerosis. J Invest Dermatol 2008;128(4):871-81.
5. Farina G, Lemaire R, Pancari P, Bayle J, Widom RL, Lafyatis RA. Cartilage-oligomeric-matrix protein expression in systemic sclerosis reveals heterogeneity of dermal fibroblast responses to transforming growth factor-beta. Ann Rheum Dis 2008.