Xuemei Zhong, PhD
Title: Assistant Professor of Medicine
Research interests: Autoimmune myocarditis, Systemic lupus erythematosus
Clinical interests: Autoimmune myocarditis, Systemic lupus erythematosus
Research Summary: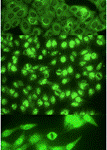 Autoimmune myocarditis is one of the major causes of heart failure. It results from our immune system attacking heart muscle. Our goal is to understand why our body ends up mounting a heart-specific immune response. In particular, we will investigate the possible link between pro-inflammatory cytokines and the breakdown of immune tolerance to heart.
Our lab is also investigating the role of B cells in Systemic lupus erythematosus (SLE), one of the most common autoimmune diseases. B cells are the main targets of SLE immune therapy, as they are the source of pathogenic autoantibodies in SLE patients. However not all B cells are "bad guys". We found a subset of B cells may have immune suppressive functions. Our goal is to identify "good" or "bad" B cells in SLE and look for environmental factors that may influence the pathogenic and protective functions of B cells.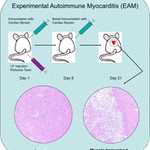 Publications:
1. Zhong, X., T. J. Schneider, et al. (2001). An alternatively spliced long form of Fas apoptosis inhibitory molecule (FAIM) with tissue-specific expression in the brain. Mol Immunol 38: 65-72.
2. Irigoyen, I.M., T. Mizuno, Zhong, X., et al. (2002).  B cell activation leads to upregulated expression of the murine Sik-similar protein gene.  Mol Immunol.38:861-866.
3. Zhong, X., T. Mizuno, and T. L. Rothstein. (2003). Fas-induced apoptosis in B cells. Apoptosis 8:451.
4. Zhong, X., C. Bai, W. Gao, T. B. Strom, and T. L. Rothstein. (2004). Featured Article of the Month: Suppression of expression and function of negative immune regulator PD-1 by certain pattern recognition and cytokine receptor signals associated with immune system danger. Int Immunol 16:1181.
5. Barrington, R. A., Zhong, X., M. Zhang, H. Jonsson, N. Holodick, A. Cherukuri, S. K. Pierce, T. L. Rothstein, and M. C. Carroll. (2005). CD21/CD19 coreceptor signaling promotes B cell survival during primary immune responses. J Immunol 175:2859.
6. Zhong, X., J. R. Tumang, W. Gao, C. Bai, and T. L. Rothstein. (2007). PD-L2 expression extends beyond dendritic cells/macrophages to B1 cells enriched for V(H)11/V(H)12 and phosphatidylcholine binding. Eur J Immunol 37:2405-2410.
7. Zhong, X., W. Gao, N. Degauque, C. Bai, Y. Lu, J. Kenny, M. Oukka, T. B. Strom, and T. L. Rothstein. (2007). Reciprocal generation of Th1/Th17 and T(reg) cells by B1 and B2 B cells. Eur J Immunol 37:2400-2404.
Collaboration:
2. Robert Lafyatis, MD
Director of the Scleroderma Laboratory Research program
Rheumatology Section
Department of Medicine
Boston University Medical Center
4. Flora Sam, M.D.
Director of Clinical Research for the Cardiomyopathy Program
Whitaker Cardiovascular Institute
Division Cardiology
Boston University School of Medicine
5. Wenda Gao, Ph.D.
Transplant Research Center
Beth Israel Deaconess Medical Center
Harvard Medical School