Women's Professional Development Committee

Our Mission 
The Mission of the WPDC is to provide a supportive space to host professional development opportunities for graduate-level women in science at Boston University through establishing and cultivating a network of exemplary mentorship with women in a diversity of scientific careers.
All students and faculty are welcome to join our network including men interested in supporting women in STEM!

Our Vision
Our Vision is to connect established career women in science, initially focused in the Boston area, with our graduate school level women in science early on in their careers so that they can use their years in graduate school to appropriately explore their career interests and options with ample support and become successful mentors themselves. With a supportive network of female leaders in their fields willing to share their experiences with our incoming generation of professionally trained women scientists, our expectation is that forging these relationships will inspire our graduate-level women scientists to explore and navigate possible career paths and prepare for next steps in their careers of interest in both an informed and educated way.
We collaborate with GWISE, Graduate Women in Science and Engineering, GMSSO, BEST, and other student organizations at Boston University to provide a space to host support, networking, mentorship, and professional development opportunities for women in science.
Founded in 2018 by Dr. Sanae ElShourbagy Ferreira (now alumna and Advisor for BU WPDC) while she completed her Ph.D. BU WPDC continues on with the leadership of remarkable and passionate individuals through BU WPDC's Subcommitees.
Subcommittees:
1) Public Relations
Lead: Kiloni Quiles-Franco
2) Community Liaison 
Lead: Devanshi Patel
3) Event Management
Lead: Senegal Carty
For students, led by students! To join our mailing list and select a Leadership Subcommittee to join, please fill out this interest form. 
Contact us @ buwpdc@bu.edu to join a subcommittee or become a faculty mentor.


---
---
*NEW* Resources Supporting Women in STEM
Visit our Resources Supporting Women in STEM page for social and professional networking opportunities in Boston and abroad, mentoring resources, conferences to attend, podcasts to listen to, and ways to get involved, volunteer and give back.
---
---

Upcoming Events & Opportunities
WPDC SheInspires Lunch Series 
We will be holding lunches throughout the year with different professors, researchers, and alumni so if you can't make it to this one keep an eye out for our next announcement.
You can also email us with suggestions for speakers at buwpdc@bu.edu!

We can't wait to see you at our next event! 
---
AAAS IF/THEN Ambassadors Program
What do Olympic gold medalists, Grammy award-winning performances, marine biologists, cancer researchers, and tech CEOs all have in common?
STEM!
AAAS is excited to announce the offical launch of the AAAS IF/THEN Ambassadors Program. The American Association for the Advancement of Science (AAAS) has opened the application which will bring together 100 women from a variety of science, technology, engineering and mathematics carers to serve as high-profile role models for middle school girls.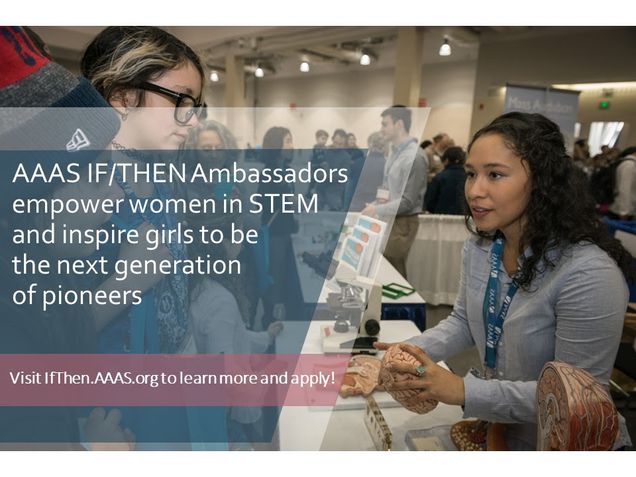 STEM professionals use their skills in many fields – including entertainment, fashion, gaming, manufacturing, music, research and development, architecture, retail and technology. The AAAS IF/THEN Ambassadors program will highlight women in STEM who are contributing to all these fields and more, showing girls the different career pathways they can pursue and how STEM impacts their lives every day.
This once in a lifetime opportunity to be an IF/THEN AAAS Ambassador may include (but is not limited to):
Participation in a summit which will empower AAAS IF/THEN Ambassadors take their outreach to the next level.
Online engagement with each other and with a wider network of experts.
Opportunity to participate in a wide variety of media opportunities including original media content that will reach girls where they access content the most.
Opportunity to connect directly with middle school girls in their classrooms, in informal science education settings.
Visit the program's website to learn more. Applications due by 11:59 PM ET on July 21, 2019. 
BU's BEST Mentoring Circles Launches May!

 
Applications are now closed for the 2019-2020 Cohort.
About Mentoring Circles
Being a mentee is for you if:
1) You are a Boston University postdoctoral fellow or are pursuing a graduate degree in the biomedical space, and
2) You are interested in fostering a supportive community around the professional development of other trainees in science.
APPLY HERE: http://tinyurl.com/BUMentorCircle19 
Deadline to Apply: March 18, 2019
Duration: April 2019-December 2019 (monthly meetings)
Time Commitment: 2 hours, once a month
Groups: 1 or 2 Mentors with 4-6 trainees.
Time and Location: A public location, determined by each Mentoring Circle.
---
Conference Support Resources
Check any of the following to see if you may be eligible to apply for financial support to attend the conference: Scientista Symposium, GMS, PDPA, GSO, SPH, GWISE.
---
Connect with BU WPDC
Check us out on Facebook and take a look at photos from our WPDC events: our Breakfast & Conversation event with BU's BEST and Dr. Rachel Flynn, PhD., and SheInspires Lunch Series. 
Join the BU WPDC LinkedIn group to stay connected, initiative conversation, and share resources on professional development.