Community Service Opportunities
GMS students volunteer for Habitat for Humanity (National Public Radio affiliate at BU), distribute food at Rosies Place and the Pine Street Inn , and run fundraisers for the Food Bank and other worthy causes, like the Outreach Van Project and Women's Lunch Plan. There are also opportunities to volunteer through the Boston Medical Center, where you can gain experience in health care settings and patient contact, through CityLab Academy and on the BU Charles River Campus.
Ongoing GMSSO Volunteer Activities
Blood Drive: Last February the GMSSO had a fantastic turnout for its first blood drive. We hope to continue and expand upon last year's success at our now-annual blood drive this year.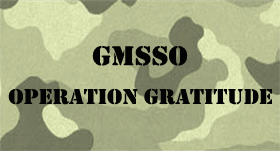 Operation Gratitude: Just before Thanksgiving break for the last 5 years, the GMSSO has collected donations (food, clothing, or monetary) and sent them to U.S. military units serving overseas, particularly to those in Afghanistan and Iraq. This past year, we sent eleven donation boxes to four different units.
Here are some further ideas for volunteer activities