Postdoctoral Affairs
The Boston University Medical Campus (BUMC) established the Office of Professional Development and Postdoctoral Affairs in January 2011. Its main objective is to coordinate non-research related training for postdocs and to provide opportunities to develop areas of professional development. The office strives to assist postdocs in their careers and to help improve their job satisfaction.
Postdocs are individuals with a PhD who are engaged in advanced temporary training – under mentors – to enhance the academic and professional skills they need to pursue their chosen career paths.  OPDPA complements the research mentors' scientific training with other professional programming enabling BUMC postdocs to be nationally competitive independent researchers. OPDPA works closely with all of its constituencies including postdocs, their mentors, department chairs, directors of other postdoctoral offices in Boston, and national postdoctoral organizations to establish policies beneficial to the BUMC postdoctoral community.
Services Available
OPDPA offers centralized career and skill development workshops that postdocs can use to hone skills that will enable them to compete for academic or other careers at premier institutions, and to promote a positive view of the University as a great institution at which to train. Programming includes career skill workshops and a monthly speaker series where a panel of staff, faculty and professionals discusses relevant topics. Topics have included: work/family balance;  teaching and mentoring; industry exploration;  skills for successful networking; resume/CV and cover letter writing;  and diverse careers in science.
The Office of Professional Development and Postdoctoral Affairs is dedicated to enhancing the quality of life and focuses on support of the postdoctoral fellows, a vital part of the  Boston University School of Medicine, Boston University School of Public Health, Boston University Henry M. Goldman School of Dental Medicine, and the Boston University Medical Center.  The Office of Postdoctoral Affairs is housed within the Division of Graduate Medical Sciences.  Our mission is to help and support postdoctoral fellows by addressing their needs and providing resources across the medical campus.  Our website is dedicated to postdoctoral fellows throughout the Boston University medical campus and has been designed to offer a gateway for a wide range of resource information that will be of value during postdoctoral experience.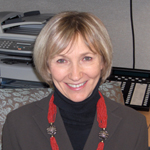 Yolanta Kovalko assumed the position of the Administrative Manager for the Office of  Postdoctoral Affairs under the direction of Dr. Linda Hyman, the Associate Provost for the Graduate Medical Science on January 3, 2011.   Ms. Kovalko is responsible for managing the administrative infrastructure necessary to support postdoctoral fellows and for managing the day-to-day operations of the Office of Postdoctoral Affairs.
A Message from Associate Provost Dr. Linda Hyman

Postdocs
are a vital part of Boston University's Medical Campus and I am delighted that you now have a place, both virtual (this website) and physical (the office in LJH317) for you to call "your own"!  The OPA is the go- to place to answer any questions you may have about postdoc life, to help identifying an array of resources that will help you navigate through BU, as well as through the next phases of your professional life.  Importantly, note that we consider ourselves to be your advocates and hope you'll use in networking, not to mention a place to stop by and get a (free) cup of coffee. I encourage you to explore and utilize this website and our office to let us know of your needs. If we are unable to assist you directly, we will refer you to an office or department that can. We wish you the best and encourage you to utilize our services.  We look forward to working with you.
Contact Information
Yolanta Kovalko
phone : 617-638-5244
FAX: 617-638-5740