Why Choose Our Program?

Your Choices
We know that you have many choices for graduate study in medical anthropology. We know, too, that our program takes longer and costs more than many of the alternatives. So why should you choose the MACCP Program at the BU School of Medicine? The following are only some of the main reasons.  When you've had a chance to look them over, we hope you'll choose us!

Based at Boston University School of Medicine (BUSM), which awards your degree
We are one of the only graduate programs in Medical Anthropology anywhere that is actually part of a medical school;
Our School of Medicine has played a leadership role in diversity and inclusion, as evidenced by its history;

The medical campus

spans the city blocks between Harrison Avenue and both sides of Albany Street, and between Northampton (past Massachusetts Avenue) and East Newton Streets (for an interactive map, check out this link.) Our offices on the 10th floor of the Solomon Carter Fuller Mental Health Center are at the heart of the campus, between the BU School of Medicine and the BU School of Public Health (for pictures of our offices, click this link);

The other Graduate Medical Sciences master's programs offer a wide array of courses, some of which you can opt to take for your electives;
As a medical-school program, we play an ongoing role in the weekly Research-In-Progress group in the Department of Family Medicine, and with clinical staff throughout Boston Medical Center. These connections enable you to build working relationships with clinicians, do fieldwork in clinical settings, and get input on your research design and analysis from clinician-researchers;
We work closely with the faculty and clinicians of the Program for Integrative Medicine and Health Care Disparities in the Department of Family Medicine at BUSM, providing you with an opportunity to focus your own research within one of the ongoing PIMHCD initiatives;
One alumna writes:
"I benefited greatly from the practical, hands-on field research instruction and practice. I had never completed a project of that magnitude prior to this program, and both the research skills and the subject matter of my project have continued to serve me. Exposure to the medical school curriculum and the values/culture of med school and the hospital broadened my understanding of how doctors and patients are "created" within the health system."
Our relationship with the BU School of Public Health (literally right next door) supports students with related interests in developing focused public health expertise.

We are in the process of developing collaborative Certificate programs with SPH, which will enable you to earn such a certificate in Public Health along with your degree in Medical Anthropology.

School of Public Health Certificates
The BU School of Public Health offers certificates in two categories: 1) functional areas, which reflect interdisciplinary skill bases (16 credits), and 2) context areas (12 credits), which reflect key populations or areas of interest within public health. These certificates and their coursework reflect the interdisciplinary needs of today's public health workforce and will prepare you for cross-cutting work in the field.
Courses within each certificate are intentionally sequenced. As you progress through the certificate requirements, you will draw upon knowledge from previous coursework to apply concepts, content, and skills to demonstrate depth and competence in the certificate area.
Because the MACCP Program allow our students to take up to 12 credits outside of the program, you can choose to do one of the following SPH Context Area certificates:
Chronic and Non-Communicable Disease
Global Health
Infectious Disease
Maternal and Child Health
Mental Health and Substance Use
Pharmaceuticals
Sex, Sexuality, and Gender
Social Justice, Human Rights, and Health Equity
You have the option to
Close relationship with Boston Medical Center
The facilities of Boston Medical Center (BMC), our affiliated teaching hospital, are on either side of us, putting our students within minutes of its resources;

BMC is part of Boston HealthNet, a network affiliation that also includes Boston University School of Medicine and 13 community health centers;
Opportunities for fieldwork research in BMC-based and community health-center programs like the following:

The bWell Center: a health care start-up aiming to provide an innovative approach to educating and supporting families of the Boston Medical Center Pediatrics Department;
Reach Out and Read Program: Pediatricians giving books to families with children to promote reading
Child Witness to Violence Program: Training for first responders dealing with children who have witnessed violence
Part of a leading research university, in a world-class city
Opportunities for interdisciplinary training and research

We encourage an interdisciplinary orientation to your training in medical anthropology through the customization of your program. Half of your time goes into the core sequence of Theory and Research Methods seminars with your cohort. The other half goes into electives chosen to address your particular research interests and career goals.
You can take up to 12 of your 60 credits anywhere throughout Boston University, including the Division of Graduate Medical Sciences and the School of Public Health. That's one-fifth of your whole program!

The program provides the option of interdisciplinary training in the cross-cultural study of religions, medicines, and healing, with faculty (Barnes and Laird) who are leaders in the field.

We offer both introductory and advanced training in the growing field of Syndemics, with the option of a focus on Reproductive Anthropology (Ostrach).
In addition to working closely with program faculty on your thesis research, you can engage faculty  from anywhere in the university as mentors and thesis advisers.
One alumna writes:
"The MACCP program allowed me to gain a tremendous amount of knowledge and skills in a relatively short period of time – the two years I spent immersed in the curriculum were well worth it. The ability to tailor the courses and research content to topics I am genuinely passionate and curious about was instrumental as well. I also really appreciated that the program allowed me to take so many classes throughout BU, including the School of Public Health. This expanded the options available to me and allowed me to work with Lance [Laird] and Linda [Barnes] to fully tailor the experience and prepared me well for life post graduation."
Intensive training in Research Methods
In-depth training in research methods, that includes study design, learning to write an Institutional Review Board protocol that undergoes review by the IRB at BU School of Medicine, intensive fieldwork, and data analysis;

An emphasis on ethnographic and other writing skills;

Possibilities for involvement in faculty research, with opportunities for co-authorship;

100% acceptance rate to date of student paper and poster proposals to national and international anthropology meetings.
In the words of one alumna:
"The methods training is perhaps the most useful and unique aspect of MACCP. Coming into [my doctoral program], almost no one has any idea how to do methods or what I even mean by methods. Additionally, our MS thesis is beyond anything MA students do here, or at any other institution. Consequently, I know how to work hard and was not surprised or intimidated by the workload [in my doctoral program]."
Internship and fieldwork experience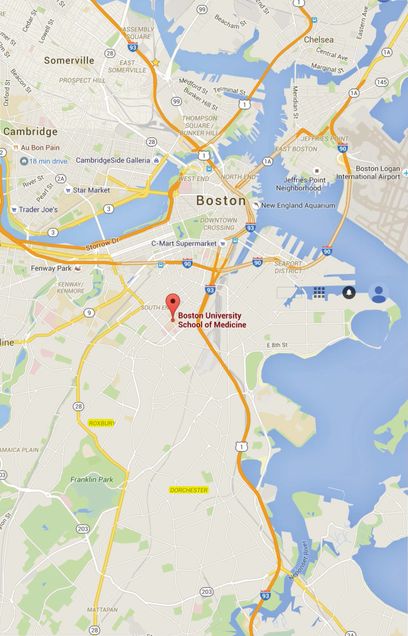 The cultural richness of our location is illustrated by the number of languages spoken in the surrounding neighborhoods: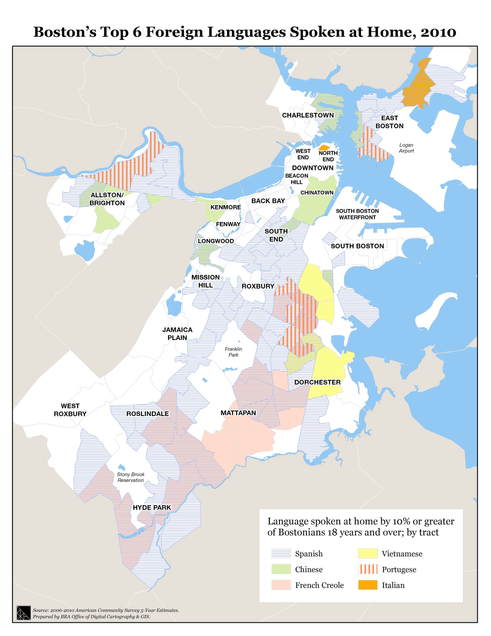 Our long-term relationships with local neighborhood health centers, agencies, and advocacy groups support identifying site prospects directly related to your research and career commitments;

Throughout your first year, you will do a volunteer service-learning internship with a local community related to your own research commitments and career goals;
Your internship provides an opportunity to learn how to conduct Community-Based Participatory Research;
We prioritize research that promotes engagement and activism, and that empowers individuals, families, and communities.

The internship program, followed by a mentored intensive summer fieldwork experience, 

lets you spend at least a year engaged in your field site;

Through working with a local community—including refugee and immigrant groups—you learn the local dimensions of global health.
Highly personalized mentoring and support
Focused, personalized advising, tailored to students' individual career goals;

High faculty-to-student ratio with a lot of access to advisers and other faculty;

Core faculty who teach all required seminars and program electives;
A current student writes:
"A big reason I wanted to be a part of this particular Medical Anthropology program is that it is both broad and focused. By that, I mean that the program will allow me to study Medical Anthropology as a whole – understanding its theory and history – while also being able to focus on specifics that interest me.
I think the biggest reason this program is so great is how small and personalized it is. I'm already amazed by how much I've been in personal contact with the various faculty members and how willing everyone is to be helpful and ensure that each student is extracting and growing from the program in the way they want."
A close-knit program community, with periodic whole-program gatherings organized by faculty and students:
Return to the top of the page.
Dedication to student career and professional development
We are committed to ongoing mentoring and career support for program alumni throughout their careers;

We have geared the program design toward career- and professional-development planning, beginning at the point of admission, continuing throughout the program, and following your graduation;

We make the development of a professional portfolio and network a program requirement;

Our graduates are either admitted to prestigious doctoral programs or medical schools, or get a training-related job within 6 months of graduating;

Employers regularly tell us that our graduates are their first choice;

We run a closed Facebook group for all faculty, current students, and alumni, as a rich resource for networking and ongoing sharing of knowledge and opportunities across cohorts.
What our alumni and mentees go on to do
Alumni of our program, or those whom we mentored while we were still the Boston Healing Landscape Project, have gone on to do the following:
Leadership in Health Services: Director of Research and Client Services, Manhattan Research, New York; Program Manager, Multicultural AIDS Coalition, Inc., Boston; Program Coordinator, A Balm in Gilead
Medical School and Residency Programs: Johns Hopkins; The College of Physicians & Surgeons of Columbia University; Stony Brook, SUNY; Brown University School of Medicine; Oregon Health & Science University School of Medicine; Kansas University School of Medicine
Doctoral Programs in Anthropology: Harvard; University of Chicago; University of California, Santa Cruz; University of California, Los Angeles; Brown; McGill; Emory; University of Edinburgh
Doctoral Programs in Other Fields: B.U. School of Public Health; Heller School for Social Policy and Management, Brandeis University; Georgetown University; B.U. Graduate Division of Religious Studies.
In Related Professional Disciplines
Health Care consulting; Social Media marketing
Our alumni have jobs like the following:
Coordinator, Special Projects, HITLAB—Healthcare Innovation Technology
Cancer Clinical Research Associate, Boston Medical Center
Arts and Healthcare Facilitator; Special Partnerships Associate, United Nations (UN Commission for Life-Saving Commodities for Women & Children)
Clinical Research Regulatory Manager at University of Colorado Anschutz Medical Campus, Denver, Colorado
Qualitative Market Research Manager at Lieberman Research Worldwide
Healthcare Consultant at Cognizant Technology Solutions
Digital Insight Strategist working within a strategic planning group in a large advertising agency (Saatchi & Saatchi LA)
Program Manager, Department of Community Health, BU School of Public Health
Qualitative Research Associate at Lieberman Research Worldwide, Los Angeles
Qualitative Research Associate at New England Research Institutes, Boston
Research Coordinator, Dept. of Family Medicine, Boston Medical Center
Senior Life Sciences Consultant and Market Research Analyst at Quintiles
Clinical Project Support Specialist at Quintiles
Tobacco Education and Treatment Specialist, Institute for Health and Recovery, Cambridge, MA
Health Promotion Specialist, Lawrence County Health Department, Kansas City
Health Outreach & Enrollment Specialist at Portland Community Health Center, Portland ME
Organizational Coordinator, Student Health Services Department, University of Vermont
Project Officer, International Cooperation Project Department, National Center for Women and Children's Health, China CDC
One alumna writes:
"I just wanted to send you a quick note because every time I get a new job I know it's because of the excellent experience I gained in our program. In every interview I've had I'm always asked about my degree in medical anthropology and people find the description of the types of things we learned so fascinating. My experience in qualitative research has opened so many doors for me and I'm so thankful to you…Thank you again for being such wonderful advisers while I was in graduate school. I hope this year is going well for you and that the semester has been going great for the new students."
What our alumni say about their training
When we asked program alumni what they would tell prospective students about this program, here were some of the answers we got:
"I took a financial risk to complete this program. I chose it because of its intensity—I wanted the option of a more meaningful Masters degree that was not merely a stepping stone to a PhD program (and I feel more than well-prepared to go that route, as well). I also felt I would be more broadly prepared for careers in research, public health, patient advocacy, anthropology and even clinical practice (though the original research students do is quite focused, and can provide a stepping stone to a further degree or career in that area as well)."

"I had the opportunity to study a wide variety of public health issues/topics and learned how to apply medical anthropological fieldwork/analysis techniques to research. I went on to conduct qualitative research in both academic and corporate settings. In my current position, I am able to apply my knowledge of cross-cultural communication best practices in a community health setting.
I now provide on-site tobacco education and treatment integration training and consultation to community based, addiction treatment programs in Massachusetts. A big part of my job is to address and develop cultural competencies within tobacco cessation/treatment programs. My training in the MACCP Program prepared me to apply cross-cultural methodologies and understand the ways in which these communities are influenced by public health issues. The program also offered me the opportunity to refine my writing, presentation and analytical skills."

"The program will prepare you for a career in social scientific research better than any Masters program I have seen. While personal research projects are focused, the curriculum provides opportunity for study in many important areas of health studies."

"I would tell [prospective applicants that] they have a lot of freedom to choose their own research project, but then once decided it is a tremendous amount of work. They would need to understand that this program is a full time job, but once completed they would have a very practical set of skills for the work force (e.g. methods, research design) as well as an understanding of what type of work might be involved in a PhD program."

"The small size allows for individual attention and a great deal of personalization – this will allow you to learn A LOT and take your critical thinking skills to the next level. The program ensures you will be able to apply what you've learned by the time you leave."

"Overall, this program has provided a solid foundation in Medical Anthropology.  Because of the intensive training I received in theory and methodology, I feel confident in my knowledge of the discipline.  The opportunity to do independent ethnographic fieldwork at a site that I found, contacted, and established rapport with on my own allowed me to flex my anthropological 'muscles.'  The final product I produced, my thesis, is impressive and is something I am proud of.  I intend to apply the skills I acquired during the past two years throughout the rest of my career, starting with my dissertation research.  Because of this program, I feel like I can truly call myself an anthropologist."
We welcome campus visits, so if you'd like to come meet us, be sure to let us know.
Return to the top of the page.