Students and Alumni
FIRST YEAR STUDENTS
Philip Connors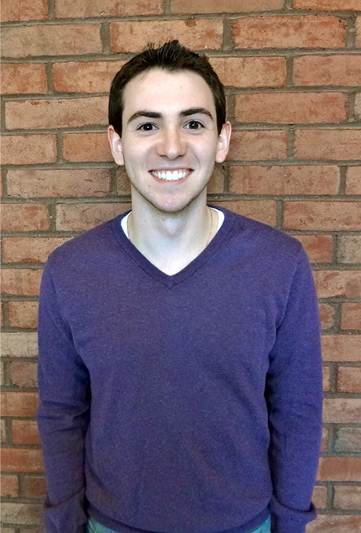 Phil is a Massachusetts native, having grown up 25 minutes south of Boston in Stoughton, before attending Northeastern University and living in the city for four blissful years. He currently lives back at home in Stoughton, and is happy to save some cash, to live close to his wonderful girlfriend Michelle, and to have a generally consistent supply of food. At Northeastern, Phil received his BS in Biochemistry with a minor in Psychology, and completed co-op semesters of full time work at both the American Red Cross HLA Typing Lab and the Boston Children's Hospital Program in Genomics. While working at Children's he really cemented his interest in genetic counseling, after helping recruit and enroll patients in a whole genome sequencing research biorepository. Now with a year at BU nearly completed he is thrilled to have realized he made the right decision, along with a bunch of great new friends. In his spare time, he enjoys being frustrated by Boston sports, cooking, seeing new movies, and sleeping in whenever possible.

Tessa Field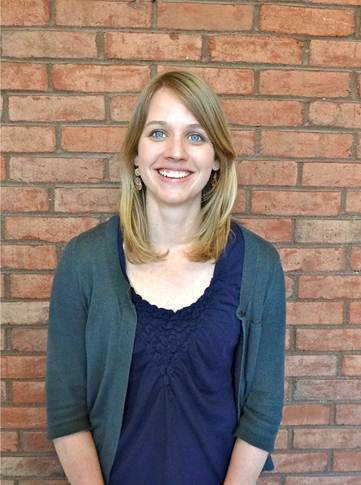 A native New Yorker, Tessa officially considers herself a Boston transplant. She lives in Somerville with her husband, Hamo, and their dog, Baxter. She received her Bachelors of Science in Biological Sciences & Athletic Medicine from the University of Vermont in 2003. She's followed a windy career path, most recently working as the Manager of Clinical Outreach at Edimer Pharmaceuticals, focusing on the treatment of a rare genetic disorder X-linked Hypohidrotic Ectodermal Dysplasia. During her work at Edimer, Tessa first discovered and truly understood the role of genetic counselors. As she learned more she felt she found the career she'd been looking for all along! When not thinking about genetics some of her favorite things are: yoga, biking or skiing depending on the seasons, baking treats and most of all drinking a really great cup of coffee.

Elizabeth Krieg

Elizabeth is originally from Iowa but currently lives in Brookline, MA, a state that is also cold but has fewer tornados.  Elizabeth graduated from Connecticut College in 2012 with a self-designed major in Genetics (the liberal arts colleges let you do that kind of thing) that she used to pursue the goal she'd had since freshman year of being a genetic counselor.  Elizabeth speaks German and was on the ski racing team, synchronized skating team and president of an improv comedy group during college.  She has worked on Cockayne Syndrome research at Children's Hospital Boston and interned at a non-profit in Cambridge where she organized and ran a summer conference event for teens with genetic and metabolic disorders.  Other hobbies and accomplishments include writing strange haikus and eating 14 cupcakes in one day.

Elizabeth Smith

Elizabeth grew up in Atlanta, GA.  Upon graduating from high school, she decided to ditch the hot and sweaty southern summers for the snowy New England winters.  She graduated from Boston College in 2010 with a B.S. in Biology.  Not to be limited to just the sciences, Elizabeth was a four year member of the Boston College Rugby Team and worked as a job coach for a gentleman with Fragile X.  After graduating, Elizabeth worked for a local non-profit where she performed case management to aid in the prevention of substance abuse in Boston Public Schools.  She decided to pursue a degree in genetic counseling because she felt it was the perfect blend of healthcare and psychosocial issues.  When she is not spending time contemplating the complexities of the human genome, Elizabeth swims, pursues the perfect book to read, paints-by-number, and volunteers with Special Olympics of Massachusetts.

Shannon Stasi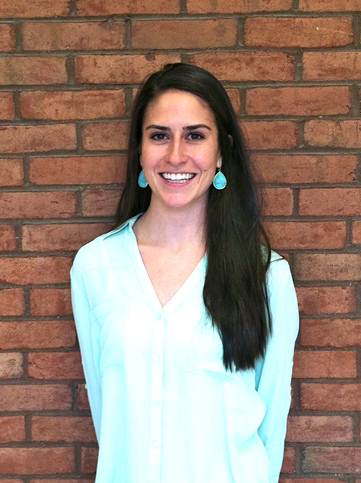 Shannon is a Colorado native who grew up with a love for the outdoors. She spends her time doing yoga, hiking, camping, climbing, biking, cooking, and going to concerts. She graduated magna cum laude from the University of Colorado at Boulder with a major in Psychology and minor in Biology. Having learned of genetic counseling from her high school biology teacher, Shannon started shadowing genetic counselors early on and knew it was the path for her. During her time at the University of Colorado, she worked as a research assistant for her professor in psychology and neuroscience. She also worked as a rape crisis counselor, a helping aide for children with special needs, a nanny, and an intern for a cancer genetic counselor in Denver, Colorado. After graduation, she moved with her boyfriend and their two fish to Seattle, where she volunteered with the genetic counseling team at the University of Washington, and worked at local restaurant. She and her boyfriend fell in love with Seattle and discovered it offered more of everything they loved about Colorado AND seafood as well as the best coffee and donuts ever!

Samantha Stickevers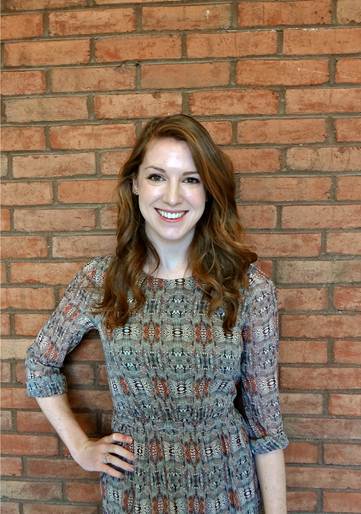 Sam has lived all across the US, but her family currently resides in a suburb outside of Baltimore.  She graduated with honors from Gettysburg College in 2012 with a B.S. in Biology.  During her time at Gettysburg, Sam was a member of Delta Gamma, a volunteer mentor, and a part of an a cappella group appropriately named the "Four Scores".  She also spent a semester abroad in Copenhagen where she studied Medical Practice and Policy, and became sufficiently prepared for the chilly Boston winters.  Over the past several summers Sam interned at the Ludwig Center for Cancer Research at Johns Hopkins where she developed a comprehensive database of human tumor mutations and correlated these mutations with specific therapies, prognostic and pharmacogenomics features.  In her abundant spare time she enjoys traveling, shopping, experimenting with recipes from her numerous Giada deLaurentis cookbooks, and trying to figure out which genetic disorder has caused her left iris coloboma.

Sheila Sutti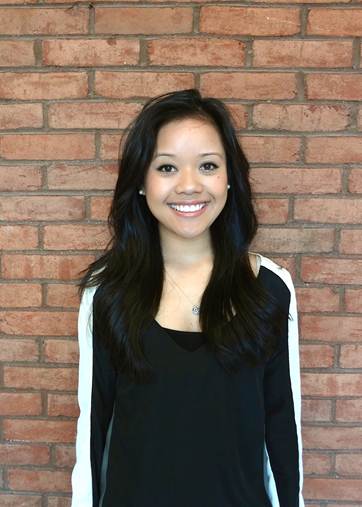 Sheila grew up in the small town of Birdsboro, Pennsylvania.  She attended the Pennsylvania State University, where she received her Bachelors of Science in Nutritional Sciences and a minor in Biology.  At Penn State, she engaged in research in neuroscience and epigenetics as a research assistant and laboratory technician for 3 years for the university's Department of Biobehavioral Health.  Upon graduation in 2011, she continued to pursue this path with a behavioral genetics fellowship with the National Institutes of Health at the Eunice Kennedy Shriver National Institute of Child Health and Human Development (NICHD) in Maryland.  There, Sheila had the wonderful (and adorable) opportunity of fostering baby monkeys.  Though passionate about genetics research, she yearned for a better balance of working with and helping people through the rewarding field of genetic counseling.  Sheila has since then fallen in love with Boston (yes, including its winters) and its program!  In her free time, she enjoys running throughout the streets of Boston, cycling, playing racquetball and squash, being a health foodie, and watching movies.

Lillian Torrey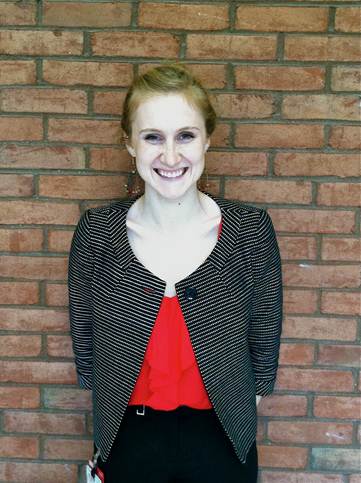 Lilly grew up in Cambridge, MA and moved back after college to find it was a great place for 20-somethings too! She now lives there with her partner, Brian, and their dog RayRay. She graduated from Skidmore College in 2007 with a major in Chemistry and a concentration in Biochemistry. After college, she worked as a nanny and a substitute teacher at Perkins School for the Blind until finding a position at MIT in an epigenetics lab, where she worked for five years as a lab manager before going back to school. Genetic counseling drew Lilly in because it was the perfect intersection between healthcare, education, science and advocacy. Lilly is also a volunteer at the Boston Area Rape Crisis Center doing outreach, and she loves to feel connected to her community through this challenging but rewarding avenue. In her free time she likes to dance, run along the Charles River, listen to live music, make and look at art, and go to the numerous festivals in the area. Her favorite festival is an annual activist street marching band extravaganza called Honk!
CLASS OF 2014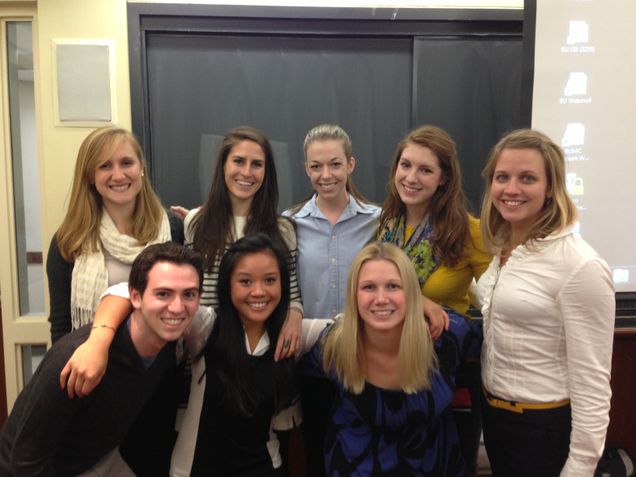 Lilly Torrey
Shannon Stasi
Elizabeth Krieg
Samantha Stickevers
Tessa Field
Phil Connors
Sheila Sutti
Elizabeth Smith
CLASS OF 2013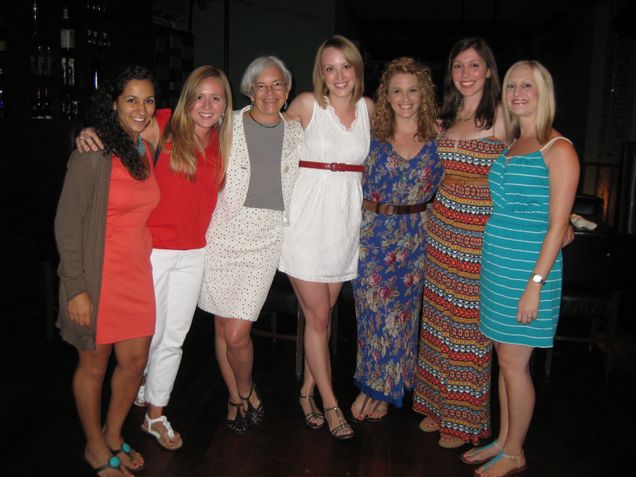 Nadine Channaoui
Laura Fisher
Nan Doyle
Carmelina Heydrich
Marie Discenza
Erica Vaccari
Lindsay Conant
CLASS OF 2012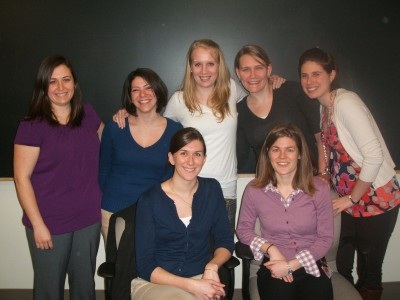 Shana White – Mountain View, CA
Natalie Vena – Atlanta, GA
Laurel Calderwood – Boston, MA
Tabitha Abrazinski – Chicago, IL
Kristin Levandoski – Upper Montclair, NJ
Jennifer Walsh – Providence, RI
Andrea Muirhead – Aliso Viejo, CA
CLASS OF 2011


Laura Fuerstman – Arlington, MA
Meg Sheehan – New York, NY
Kat Lafferty – Boston, MA
AJ Stuenkel – Aliso Viejo, CA
Erin Hoffman – Boston, MA
Laura Benedict – Rockville, MD
Diana Toledo – Boston, MA
CLASS OF 2010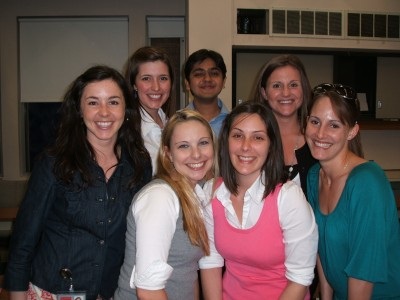 Mari Morse – Portland, OR
Jilliane Miller Sotelo – Worcester, MA
Kunal Sanghavi – Boston, MA
Erin Thorpe – Boston, MA
Katharine Coles – Houston, TX
Jennifer Hardt Boomsma– Honolulu, HI
Jocelyn Davie – Boston, MA
CLASS OF 2009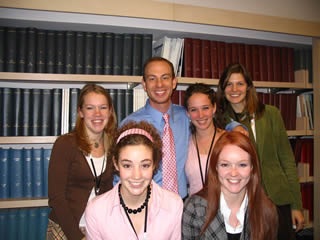 Emily Brown – Boston, MA
Ian Wallace – Pullman, WA
Meghan Connolly – Boston, MA
Jennifer Dick Hair – Rockville, MD
Denise Lautenbach – Boston, MA
Molly McGinniss – Sacramento, CA
CLASS OF 2008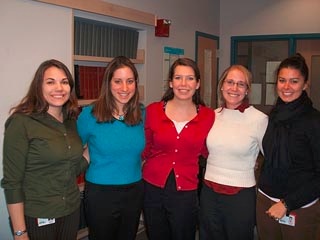 Leann Bartomioli – Rochester, NY
Tara Sousa – Washington, DC
Beth Hopkins – Wilmington, DE
Lindsay Paull – Washington, DC
Monica Dandapani – Boston, MA

CLASS OF 2007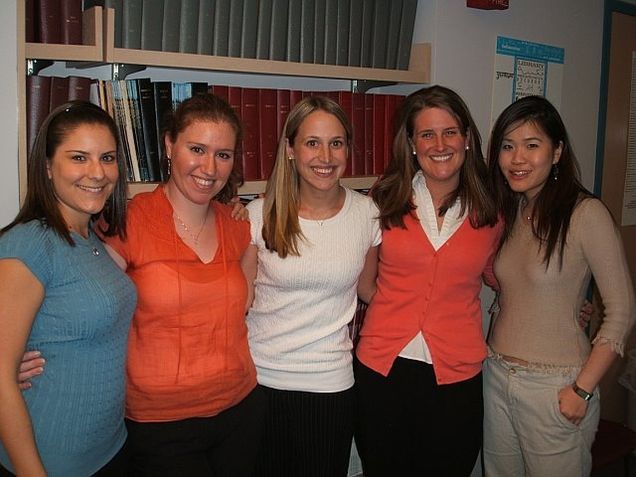 Chandra Oksala Somerman – Newark, DE
Anya Revah – New York, NY
Amy Lovelette Hernandez – Boston, MA
Samantha Baxter – Boston, MA
Christina Choi – Singapore