Upcoming GMS Diversity, Equity & Inclusion Events
On behalf of the initiative for Diversity, Equity & Inclusion in the Division of Graduate Medical Sciences at Boston University School of Medicine, we would like to share the below events. As you take part in our diverse community, we encourage you to consider attending the following:
Wednesday, March 20, 2019 | 12:00 – 1:20 pm | L-201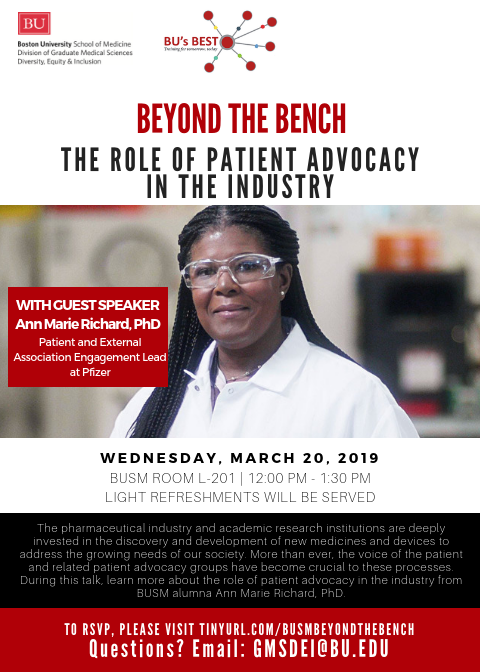 Please click here to RSVP for the event.
The pharmaceutical industry and academic research institutions are deeply invested in the discovery and development of new medicines and devices to address the growing needs of our society. More than ever, the voice of the patient and related patient advocacy groups have become crucial to these processes. During this talk, learn more about the role of patient advocacy in the industry from BUSM Alumna and Patient & External Association Engagement Lead at Pfizer Ann Marie Richard, PhD.
Wednesday, March 20, 2019
BUSM Room L-201
12:00 PM – 1:30 PM