Upcoming GMS Diversity, Equity & Inclusion Events
On behalf of the initiative for Diversity, Equity & Inclusion in the Division of Graduate Medical Sciences at Boston University School of Medicine, we would like to share the below events. As you take part in our diverse community, we encourage you to consider attending the following:
Wednesday, February 13, 2018 | 12:00 – 1:20 pm | L-112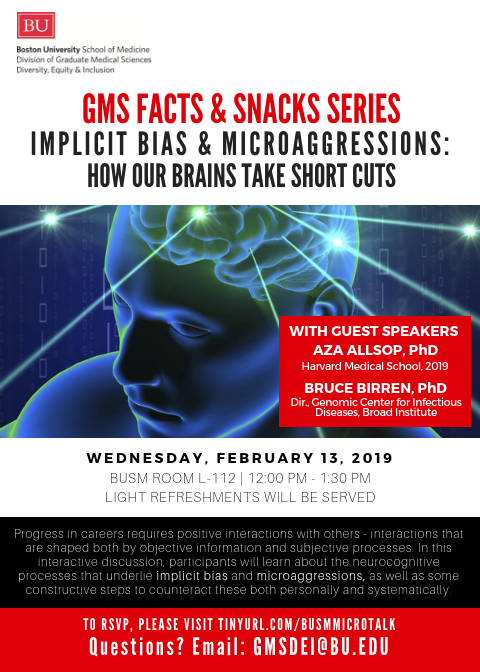 Implicit Bias and Microaggressions: How Our Brains Take Short Cuts
Description: Progress in careers requires positive interactions with others – interactions that are shaped both by objective information and subjective processes. In this interactive discussion, participants will learn about the neurocognitive processes that underlie implicit bias and microaggressions, as well as and some constructive steps to counteract these both personally and systematically.
Bio:
Aza Allsop, PhD  carried out graduate and postdoctoral training in the Tye lab at the Picower Institute for Learning and Memory at MIT. He studies how social information is processed and integrated in the brain in hopes of elucidating the neural circuits responsible for fundamental social behaviors. His research is guided by the belief that deconstructing these mechanisms will provide a better understanding of how social groups function and offer more insight into the implications this has for the development and function of society at large. Dr. Allsop is involved in efforts to increase awareness of social biases and exposure to tools that help increase cultural inclusion and enhance social equity and cohesion. He is currently completing a medical degree at Harvard Medical School and plans to soon begin a residency focused on public psychiatry.
Bruce Birren, PhD is the Director of the Genomic Center for Infectious Diseases at the Broad Institute of MIT and Harvard. He founded the Broad's Diversity Initiative and institute-wide mentoring program. He leads workshops for faculty on research mentoring and Culturally Aware Mentoring practices. He teaches classes and workshops for trainees on scientific communication, mentoring relationships and the differential impact of social factors have on success in science based on many aspects of our identities. He is a lifetime SACNAS member and a Master Facilitator with the National Research Mentoring Network.