Contact Us
To contact our program by email, phone or mail
Biomedical Forensic Sciences, Graduate Medical Sciences
Boston University School of Medicine
72 E. Concord Street, R806
Boston MA 02118
617-638-1950
bmfs@bu.edu
The Medical Center is located parallel to the 93 expressway near its interchange with the Mass Pike (I-90).
From 93 (north or south bound) take Exit 18 and from the Mass PIke (I-90) merge onto I-93 South and then take Exit 18.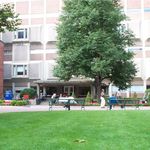 From Exit 18, at the traffic light, turn onto the access road; stay in right lane. At end of access road, turn right onto Massachusetts Ave.
From Massachusetts Ave, take second right onto Harrison Ave. Take first right off Harrison Ave which is East Concord St. (limited on-street metered parking available).
Halfway down block on left side is 80 East Concord St. Follow foot path to School of Medicine.
Once inside the school bear right, and just past the security desk there will be elevators on the left. Take the elevators to the 8th floor and turn left off the elevators. Our administrative offices will be directly in front of you on the left in Suite R806.
Request Information
To request an informational brochure, please provide information about yourself. You may be contacted by a staff member of the program. E-mail address is the only required field.