MD or PhD – Which is Right for Me? – February 27, 2020
GMS and BU MAPS Host Panel Discussion On Choosing an MD or PhD
Monday, March 2, 2020
Aura Flores-Canelas (Boston University Sargent College '20)
The Initiative for Diversity, Equity, & Inclusion at GMS partnered with BU MAPS, the Minority Association for Pre-Health Students, for a panel discussion on Thursday, February 27th. With four panelists in total, the panel consisted of medical students Aliyah Gaines and Jacob Hernandez, alongside PhD candidate Josiane Fofana, and MD/PhD candidate Chinaemere Igwebuike. All the panelists shared the path they took that led them to BU, including the difficulties they faced along the way.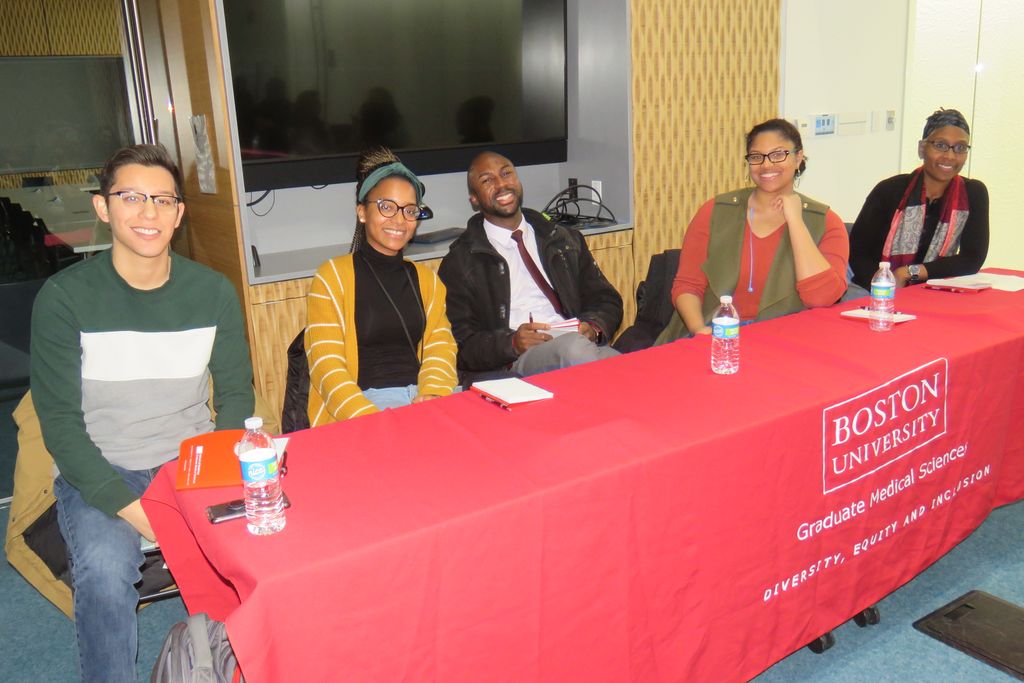 Dr. Fadie Coleman, Director of the Biomedical Laboratory and Clinical Sciences program and Assistant Professor of Medical Science & Education led the panel. Dr. Coleman started the night by asking the panelists why they chose MD or PhD. Ms. Gaines shared that she had done research at the National Institutes of Health (NIH) and was expecting it to be an amazing time. She recognized that doing research at the NIH was a great accomplishment, but she soon realized that research was not for her. Mr. Hernandez had a similar path in that he also conducted undergraduate research in different labs prior to medical school, tried to like it, but knew it was not for him. After an experience with cancer in his family, he knew that a career as a clinician was his passion. Ms. Fofana conducted undergraduate research as well, but had a different experience. She shared that her desire to help her hometown of Dakar, Senegal fueled her decision to pursue a PhD. She personally felt "too emotional" of a person to be an MD and, after spending two years post-undergrad as an industry researcher, she made the decision to pursue graduate school. Mr. Igwebuike stated that he did not want to choose between an MD and PhD, so he did both. He sees both degrees as incredibly interconnected, with PhDs "answering questions no one has the answer to" and MDs giving the clinical treatment based on the research that has been done. He also felt that having both perspectives would be ideal for policy-making careers, such as leadership in the NIH.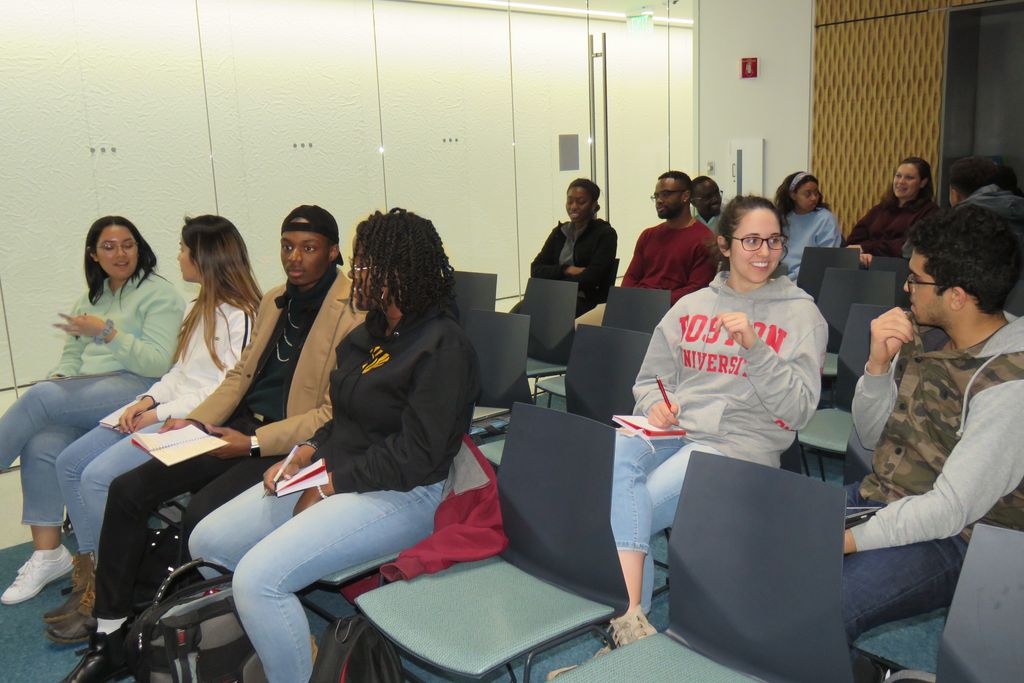 The panel also answered questions around what courses to consider and what types of research they did to prepare them for their education. Their answers were sprinkled with advice about trying different things, following your passion, and not worrying too much about the name of the school. Their advice also encouraged pre-med/pre-health students to understand the degree of flexibility in the curriculum and programs at the schools they might be interested in. For example, the PhD Program in Biomedical Sciences, which Ms. Fofana is currently enrolled in, allows students to rotate in multiple research labs before deciding on a research focus. In Mr. Hernandez's example, he shared how Boston University School of Medicine allowed a group of students to provide feedback on how to incorporate issues of social justice and racism into the curriculum. 
The panel also encouraged students to consider the geographic location of their schools of interest relative to the field of work the student is passionate about. For example, both Ms. Gaines and Mr. Hernandez knew that student outreach and the ability to serve vulnerable populations would be important factors in their medical school experiences. Boston Medical Center and the surrounding neighborhoods allow them to reach the patients they are most interested in serving. At the conclusion of the panel, Dr. Coleman encouraged the students to network with each other and stressed the importance of finding support networks in their pursuit of graduate or medical school.