Spotlight on Faculty: MaryAnn Campion, M.S., C.G.C.
Director of the Genetic Counseling Program in the Division of Graduate Medical Sciences (GMS)
What do you think of when you think of your dream job?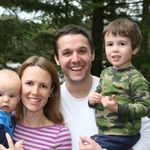 For MaryAnn Campion, Director of the Genetic Counseling Program in the Division of Graduate Medical Sciences (GMS), it is leadership, healthcare, and teaching. An active member of the GMS community, she continually influences her students to pursue successful careers in an evolving field while setting an example for her colleagues on various administrative committees with her dedication and warm personality.
What kind of career did you have before coming to BUSM?
Before starting at Boston University, I worked as a prenatal genetic counselor at the Greenwood Genetic Center in South Carolina. My work involved prenatal testing and patients with high-risk pregnancies. I enjoyed my job, but ultimately, I wanted to be the director of a graduate program, where I could continue seeing patients in the clinic, but also begin teaching. A few years ago, GMS wanted to start a genetic counseling program, and a position opened that would allow me to expand into a teaching/director role.
Can you tell me about the genetic counseling program?
The GMS Genetic Counseling program is one of thirty-two programs in the country, and the only program in New England offered on a medical campus. We receive around 150 applications a year and are fortunate to have access to exceptional and dynamic students. Throughout the two year program, students take courses, complete research projects, and train through fieldwork experience so that they have a smooth transition into the workforce. Through surveys and interviews, we are continuously asking current students what is and is not working and asking alumni about their post-grad experience. This open-door policy really allows students to shape the program and influence the curriculum.
Besides director of the Genetic Counseling program, what other roles do you have at BUSM?
Approximately twenty percent of my time is spent at Boston Medical Center working in the OB/GYN department. The other eighty percent is divided between the students, teaching, and my administrative roles. I work primarily with the students in my program, but I have also served as a thesis reader for students in other programs and give lectures for the Mental Health Counseling and Behavioral Medicine program. There are numerous committees that I serve on both within GMS and nationally. Recently, I collaborated on a grant with the School of Public Health that developed a tool for tracking patients' family histories.
What are the most challenging and the most rewarding parts of your job?
The most challenging job is trying to stay up-to-date with all the advancements in my field. Genetic and genomic medicine is constantly changing. I often feel like I am teaching a "moving target" because a method or concept I explain today may be obsolete by the time my student graduates. When teaching, I focus on telling the students where and how they can find an answer, which will help them more in their careers than simply memorizing facts.
The most rewarding part of my job is definitely the students. They are my extended family. Every morning, I find that I am excited to go to work because I feel that I am making a difference in the lives of my students.
How do you like to spend your time outside of BUSM?
I am so grateful for my family. We have a "live in the moment" perspective, and appreciate the little things that balance out our lives. We enjoy being outdoors, and we do a lot of cycling, running, and camping together. I have two young children, so there is never a dull moment!
Do you have any advice for current students or prospective students?
I am currently working on my doctorate, and I wish I had the following advice when I was working on my Masters: Be present and engaged, and try to not lose sight of what matters most in life. Whether in your studies or personal life, it is important to remember not to sweat the small stuff. This time around, I can truly appreciate my graduate program for what it is, and not just the degree I will receive. Putting aspects of your life into perspective can really help you see the bigger picture.