Spotlight on Faculty: Barbara Schreiber, Ph.D.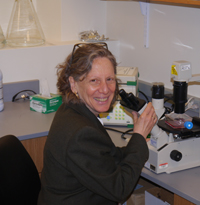 Setting a goal and achieving it takes determination, flexibility, and an open mind—a process Dr. Barbara Schreiber knows all about.  Associate Professor of Biochemistry, she always knew she wanted a fulfilling career in science, as well as a family.  She discusses how to balance it all, and that your dream job may not always be just as you imagined.
How did you first become interested in science?
In high school, science was easily my favorite subject.  When it came time for me to go to college and choose a major, it was a no-brainer.  I majored in biology at the State University of New York at Buffalo.  I had a neighbor where I grew up in Bayside, NY, Dr. Albert Hirschmann, who was a faculty member in the Department of Anatomy at Downstate Medical Center and he offered me a summer position in his lab; it was there that I became hooked on research.  After earning my Bachelors degree, I worked as a technologist for the blood bank at the American Red Cross in addition to taking courses in immunology.  The combination of my work and classes motivated me to apply to Boston University for graduate school.
What made you choose biochemistry?
I did not initially choose biochemistry.  I earned my PhD degree in the Department of Microbiology working with a brilliant researcher, Dr. Frederick Moolten.  My thesis work was on generating hybrid molecules of an antibody conjugated to a potent bacterial toxin in order to target tumor cells.  Though I was passionate about my research, I realized that I also wanted a family and I didn't think I would be competitive as a principal investigator if I couldn't spend day and night in the lab.  Realizing that there were other paths to take and remain in science, I decided to try to pursue my new found love of microbes and I applied for a post doctoral position with Dr. Cynthia Needham in the clinical microbiology lab at University Hospital.  I really enjoyed learning from Dr. Needham about the workings of a clinical hospital lab but I missed research!
At that point, I had one child and I decided to meet with Dr. Carl Franzblau, who was the chairperson of the Department of Biochemistry at BUSM, as I thought he might know of someone in his department who would be open to considering a postdoc who wasn't willing to work 24×7.  Instead of suggesting faculty in his department, he offered me a position in his lab.  I must admit, I was hesitant because he studied what I thought was a rather "boring" molecule….elastin, but Dr. Franzblau did make it sound exciting and he allowed me to tailor projects to my interests.  Moreover, he enabled me to do some work from home; as long as the work got done, he didn't care where (Dr. Franzblau, a gifted scientist and mentor, was ahead of his time; he invented "flextime")!  During the time in his lab, I had two more children and I was promoted to faculty.  Eventually, Dr. Franzblau passed his lab onto me as he moved away from research and took on more administrative responsibilities.  By the way, to this day, I'm studying that "boring" molecule!
Did you always know that you wanted to teach?
I can't say that I gave teaching much thought in the very early years of my career.  Now, I can say however, that I love teaching!  I serve as course manager to our first year dental students at the Goldman School of Dental Medicine and the Oral Health Science track students in the MA in Medical Sciences program.  I enjoy trying to make a difficult subject "palatable" to students whose primary interest is not necessarily biochemistry and for the MA students, I love seeing them do well and achieve their goal of gaining admission to dental school.  I also direct the Biochemistry Graduate Program for PhD and MA students.  I love watching the graduate students develop as scientists as they progress through our program.
You are participating in the development of the second-year PhD curriculum, Foundations in Biomedical Sciences (FiBS) II.  Can you tell me a little about this new curriculum?
I was first a member of the FiBS I curriculum planning committee, which strove to develop coursework that would challenge the students with intensive science content in biochemistry, cell biology, molecular biology, genetics and physiology.  The faculty and students on the committee worked collaboratively across disciplines to devise the new curriculum.  The faculty who implemented the new curriculum this year (not me) have done a great job; it's been an exciting new adventure!
The goals for the second year curriculum, FiBS II, are very different, a bit more vague.  The focus is on professional development skills, and will consider scientific writing, oral presentation, biostatistics, bioethics, research compliance, public policy, management, leadership and career paths.  The FiBS II committee charged with this task is representative of nearly all the PhD programs, and is currently deciding if these lessons are best taught as credit-bearing courses or in workshop formats.
How do you think PhD students will benefit from a renovated curriculum?
This curriculum is beneficial to students because, like my own career demonstrates, there need not be one straight path determined upon entering graduate school with no room for change.  This curriculum will help students consider options to participate in the greater scientific community, not just in academic science; data suggest that only a small percentage of today's scientists-in-training will pursue careers in academia and there's a wide world of options out there.  It is our obligation to introduce our students to these opportunities, and to help them find the career that will be fulfilling and allow them to contribute to the scientific community and to the greater good.
What is the most interesting part of your job?
That's a tough question!  I love teaching and directing the graduate programs in the Department of Biochemistry as well as my committee work within GMS and the University, but if I must choose one, I still have to say that my absolute favorite part of the job is my research.  I love directing graduate students and research technicians in my own lab, watching them grow and mature as young scientists.  It is a rewarding experience for me as well as, I hope, for them.  My lab focuses on studying the role of aortic smooth muscle cells in atherosclerosis.  Atherosclerosis results from a chronic inflammation of the vasculature and we study how inflammatory processes impact on smooth muscle cell function.  In particular, we study serum amyloid A, an acute phase protein that accumulates in the vascular lesions that are the hallmark of atherosclerosis.  We showed that serum amyloid A alters smooth muscle cell function.  In seeking a receptor for the serum amyloid A-mediated effects, our work has led to consideration of a role for activation of a family of receptors known as the Toll like receptors in atherosclerosis as well as in the development of the vasculature in utero.   Interestingly, the Toll like receptor-2 is also activated by the periodontal pathogen P. gingivalis so we are considering if periodontal disease can impact on poor vascular development and hence, poor pregnancy outcomes as well as vascular sequelae later in life. This work is a collaboration between my lab and the labs of Drs. Caroline Genco, Ellen Weinberg and Matthew Layne.   These studies are yet another example of how your experiences can be brought to bear in ways you might not have considered before; this research was shaped from a variety of interests/experiences that I've had throughout my career including my early training as a microbiologist, my current teaching in the dental school which has enabled me to understand the impact of periodontal disease on systemic disease and my laboratory's focus on smooth muscle cell biology.
What is the most challenging?
It can be a challenge to balance everything: research, teaching and administrative/committee work.  You have to prioritize.  The internet has made it easier in some ways because a lot of work can be done at home, but of course, you're never truly away from work.  Sometimes not sleeping helps to get things done too!
What do you like to do outside of BUSM?
I love to spend my free time outside of BUSM with my family, my husband and three children.  I do a lot of cooking for them;  I believe that many scientists enjoy cooking, each dish an experiment that allows you to change multiple variables at once (something you can't do in the lab)!  Even if it comes out tasting awful, it's okay, because it's for family and you can always modify the next time!  I also enjoy reading and I'm a member of a book group.  We read fiction and non-fiction; this month's book is "Changing Planet, Changing Health: How the Climate Crisis Threatens Our Health and What We Can Do About It" by Paul R. Epstein and Dan Ferber.  Though I enjoy knitting and crochet, my projects are often experiments as well!
Do you have any advice for current GMS students?
Students should always follow their passions.  It is important to set goals, but life sometimes gets in the way, and that's okay.  Careers take unexpected turns and you can always set new goals.  Keep in mind that as a scientist, you're likely to find your passion in many scientific pursuits, so keep your mind open (after all look at elastin and me)!  It's important to stay true to yourself, and to be able to think beyond what you originally planned but just as long as you contribute to science and humankind (and of course, can pay the bills), you're doing great.  When I realized in the early years of my career that I could not work 80 hours a week as an academic scientist, I first thought it was an admission of defeat.  But not at all; on the contrary, it all worked out and frankly, now I do have it all!  I spend a lot of time with my family and now that my children are older, I have a lot more time to dedicate to work.  As options unfold, think long and hard about them and choose a goal and career that works best for you.
Importantly, seek good mentors who will help you to shape your career.  Feel free to reach out to potential mentors within your department, in other programs within GMS and Boston University as well as outside of the University.  I have been so lucky to have been mentored "by the best" over the years (some of whom are highlighted above); extra special thanks go to Dr. Moolten and Dr. Franzblau!