Spotlight on Faculty: Dr. Adam Hall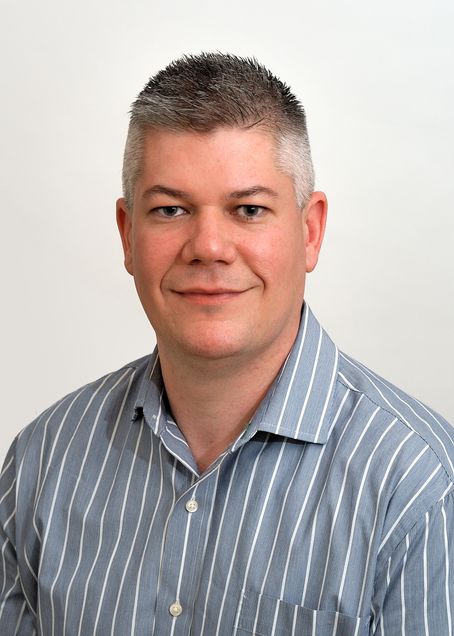 When most people hear "forensic science," they immediately think of DNA and dead bodies.  With the Hollywood TV shows and movies, people often do not realize the science behind investigating a crime scene.  Dr. Adam Hall, Instructor in the Biomedical Forensic Sciences program at Boston University School of Medicine (BUSM), explains how he has transformed his career from examining evidence and teaching jurors to educating students here at BUSM.  Recipient of the 2012 Educator of the Year Award in the Graduate Medical Sciences, Dr. Hall continually demonstrates his dedication and service to GMS and his students.
Why did you come to BUSM?
The Biomedical Forensic Sciences program at BUSM is very unique. Dr. Tara Moore started the program six years ago, worked tirelessly to build the program and to hire faculty who had worked in the field of forensic science with MS degrees, as well as faculty with PhDs and MDs.  Typically, forensic science programs do not have the term "biomedical," but because this program is within a medical school, it accurately describes the program.  The Biomedical Forensic Sciences program is very interdisciplinary, and the faculty has a wide range of expertise.  My specialty is forensic chemistry and instrumental analysis.  For instance, I teach students how to understand and utilize a particular instrument to identify probative evidence in arson, explosive, or drug cases.
What do students typically do after they complete this program?
Some students go on to medical school, and some continue their education in doctoral programs.  The majority of students, however, are prepared to examine evidence as analysts within a crime laboratory.  Some go on to work for the Boston Police Crime Lab, or the Massachusetts State Police.  Others move to other states and hold similar positions in public or private forensic laboratories.
Are you currently involved in any research?
I am currently involved in two primary research areas with my thesis students.  The first project aims to develop new methods for extracting evidence samples from fire scenes.  Today, there are two primary reasons fires are intentionally started: malicious intent, or the current mortgage crisis and arson is believed to be an easy way out during tough financial times.  It is common for a fire debris analyst to detect crude oil products such as gasoline, which remains oily and does not wash away during fire suppression efforts. However, water-based accelerants, such as vodka or other alcohols, are easily washed away and are much more difficult to detect when the evidence is extracted during the analysis.  The second area of research interest examines drugs of abuse not currently regulated by the federal government.  A lot of these drugs are what high school aged students are experimenting with, and are compounds that the DEA is very interested in regulating.  These drugs can include synthetic drugs, as well as exotic plants containing drugs of abuse used around the world, but can easily be obtained through the internet.
Can you tell me a little about your experience before coming to Boston University?
I used to work with investigators at the Massachusetts State Police Crime Lab as a civilian scientist.  I went to many crime scenes, including homicides, sexual assaults, suspicious fires and explosive cases.  I would perform chemical tests and collect samples at these scenes, analyze the evidence in the lab, and testified often in criminal cases.  After a series of particularly difficult homicides, I left the field to teach and to explore the next phase of my career as a forensic scientist.  I had always been interested in teaching.  In fact, during testimony, part of a forensic scientists job is to effectively convey information to the members of the jury.  When I testified in criminal cases, I would have to explain my analysis to individuals with potentially no experience in science.  My work would not be appreciated unless I could accurately convey my findings to the jurors, and to do so, I often used analogies.  I also frequently visited local high schools and colleges to educate students about careers in forensic science, and the differences between "Hollywood" forensics, and the actual science.  It was also interesting to explain to students that you can learn skills to apply to a forensics career, but that the real foundation was a solid understanding of the science.
I currently consult with attorneys in cases related to fire debris and explosives analysis. Often times, the attorney needs me to explain the forensic evidence, or I am requested to review the conclusions, ensure that procedures were executed properly, and/or provide a second opinion.
What is the most interesting part of your job?
Students enter the Biomedical Forensic Sciences program from an array of backgrounds: some love chemistry, and others do not and want to specialize in different areas.   When I teach, I get excited about what I'm talking about, and often model my teaching style after professors I personally learned the most from.  If you are passionate about what you are teaching, then your students are more likely to be engaged during the learning process.  I often joke with my students that I will convince them to love chemistry, even if they're scared of the word at the beginning of the program.  I think back to when I was in high school, and I no interest the subject of chemistry.  It wasn't until I learned that practical applications existed, and that hard-core science could be used to solve crimes, that I really became passionate about the field.  What I have learned through teaching is that you have to do your own homework to determine what teaching styles are most effective in reaching students.
In addition, I have always found Commencement to be particularly rewarding, not only for the students, but also for myself as an educator.  In many ways, the graduating students are a product of their hard work as well as my own, and it is clear to see how far they have come throughout the course of the program.  The fact that they are at commencement receiving their degree is a reflection of their dedication and hard work, but personally it is a proud moment for me as well and a sense of accomplishment is felt during Commencement.
What do you like to do outside of BUSM?
I enjoy spending time with my three year old son Connor and being outdoors whenever possible.  A specific hobby of mine is mountain biking.  I lived in Colorado for a short period of time and participated on a racing team.  I also enjoy camping and traveling whenever possible.  Oftentimes when I go to conferences, I will spend a few extra days in the area to explore.  This May, I will be traveling to Vancouver, British Columbia.  Like science, cooking is also a passion of mine, and allows me to be creative.  Initially, when I first graduated from high school, I had planned on attending culinary school, but soon realized that I was more suited to be a chef as a hobby rather than as a career.
Do you have any advice for current GMS students?
I believe it is important for all students to challenge themselves and to do something outside of their comfort zone.  Whether it is taking a course in a subject you are unfamiliar with but interested in, or attending a conference to present your research, new experiences will only help you to grow as a scientist.  It is important for students to realize that what they are studying and researching here at BUSM is important, but more so, extending yourself and networking with the scientific community beyond the walls of Boston University is essential.