Spotlight on Faculty: Dr. Gregory Viglianti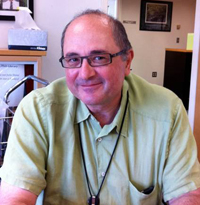 With a passion for gardening and cooking, Dr. Gregory Viglianti stirs up more than a delicious Italian meal.  Making great strides in HIV research here at Boston University School of Medicine, Dr. Viglianti shows the same commitment to mentoring students and participating in GMS administrative committees that he does to his research.  A model faculty member, Dr. Viglianti describes his path into the Microbiology department and offers some advice for all GMS students.
What brought you into the field of Microbiology?
I entered the field of Microbiology through the back door.  When I started my research as a PhD student, I focused on gene regulation in fruit flies.  For my postdoc, I studied transposable elements in fruit flies, which eventually led me to study bona fide viruses.  I ultimately began to research HIV.  Now, working at BUSM, I can devote my time in the Microbiology department to laboratory research as well as teaching.
HIV research is especially important today.  Can you tell me a little more about your current research?
My laboratory group is currently working to understand how certain factors affect HIV transmission.  For instance, we have found that other diseases, such as gonorrhea, particularly in women, tend to increase transmission by activating innate immune receptors. By fully understanding how and why HIV is transmitted from person to person, we can develop a way to prevent the spread of the virus, possibly through the use of a topical microbicide. Along those lines, we are also studying drugs that target certain nuclear receptors to see whether their activities can block transmission.
What is the best part about mentoring students?
I have had the pleasure of mentoring a number of outstanding students and have found it to be very rewarding. My favorite part about mentoring students is helping them become independent thinkers.  You can almost see the light bulb go off in their heads when they transition from novice researchers to full-fledged scientists.  It is at that point that you realize that they "get it".
I understand that you also have some administrative responsibilities with GMS?
Yes, I am a member of many GMS committees including the Academic Policy Committee, the Ph.D. Steering Committee, and the Faculty Senate.  Participating at this level in the GMS and BU community is very important to me, though it can be a challenge.  It is hard to juggle these administrative responsibilities with things I enjoy more, like research and teaching.
I am also involved with the recently designed Foundations in Biomedical Sciences (FiBS) curriculum for PhD students.  About a year and a half ago, I was asked to join the FiBS discussion because I had shown interest in revamping the old curriculum for our PhD students and bringing their education up-to-speed with the twenty-first century.  After a long discussion, and when the new curriculum began to take form, it made sense for me to serve as a course co-manager for a FiBS module.
What is the most interesting part of your work?
Definitely my research.  Beyond the details of my lab, research in general is fascinating.  Science is one of a few fields that allows you to discover something new about the universe on a regular basis.  It is forever changing, and I am constantly learning new things.
What do you enjoy doing outside of the office/lab/BU?
My wife Sue and I love to garden and cook.  At home, we have a 1,200 ft2 vegetable garden.  The garden produces enough to eat from early spring all the way through late autumn.  I would also consider us pretty good cooks.  I am Italian, so cooking and food has always been a part of my life.  It is something I really enjoy.  We also enjoy our border terriers, Wilma and Bruno.  They are incredibly energetic, some would say over–the–top. But they are endlessly entertaining.
Do you have any advice for GMS students?
Science is hard, but more importantly it is a lot of fun. You should enjoy it.  Also, I think it is easy to get bogged down in the details of one's own research.  Every once in a while it is important to step back and think about how what you are doing fits into the big picture. If science is your calling you will know it.