Summer Global Health Experience in Cacha, Ecuador (BUSM I)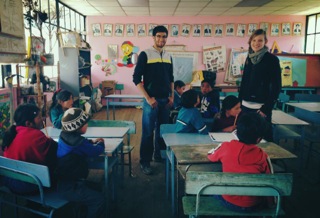 The Summer Global Health Experience in Cacha, Ecuador (aka Cacha program) began in the summer of 2010 with class-of-2013 BUSM and Dartmouth medical students. The program grew out of a collaboration between faculty from BUSM and Dartmouth medical schools in conjunction with Jorge Duchicela, M.D., the founder of Cacha Medical Spanish Institute (Cachamsi).
Cachamsi is a medical Spanish and international healthcare immersion program located in Riobamba, Ecuador. Medical students who have completed their first year of medical school spend about five  summer weeks in the Andean highlands of Ecuador participating in the program that includes the following components:

Daily intensive medical Spanish classes at Cachamsi

Local clinical exposure to indigenous populations and health ministry care clinics (clinical shadowing for 4 hours/day for 2 weeks)

Opportunity to organize and run a summer health camp for indigenous children (5 hours/day for 3 weeks)

Homestay with local families
Students who undertake the Cacha program are eligible to apply to the GH Summer Scholarship to defer some expenses of the program. Any first-year medical student who is interested in the Cacha program, must contact Ana Gregory by the end of the student's first semester (December) at BUSM.
For More Info: