Geriatric Medicine Fellowship Clinical Sites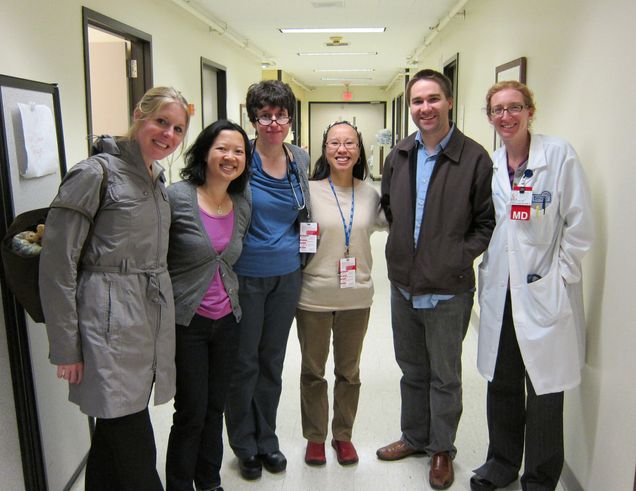 Clinical training occurs in a variety of settings: an acute and chronic care hospital, at patient's homes, nursing homes and outpatient clinics.
These experiences provide fellows with an appropriate fund of knowledge and the opportunity to develop experienced clinical judgment by synthesizing and applying knowledge to older patients.
Boston Medical Center Geriatric Services provides a broad continuum of geriatric care in a collaborative practice with physicians, gerontologically trained advanced practice nurses and a social worker. Our 2400 patients, over two-thirds of whom are minorities (African American, Hispanic and Asian) and low income, receive primary care in the Geriatric Ambulatory Practice (GAP), the Home Care Program or in the Nursing Home Program. Patients also undergo comprehensive geriatric assessment in the Geriatric Assessment Clinic. Care is interdisciplinary in all of these sites. Regardless of where they receive care, geriatrics patients requiring acute care are admitted to the Geriatrics Service at BMC where they receive inpatient care from a dedicated team of geriatrics faculty and house staff, hospital staff, students and advanced practice gerontologic nurses and discharge planners.
Home Medical Care Program
The home care program provides primary medical care to approximately 600 frail and isolated older adults in the neighborhoods of Boston. The majority of patients are women whose average age is 80 years and who live alone. Fellows provide primary medical care to a panel of patients throughout the entire one or two years of training.
The home care services provide ongoing opportunities for fellows to instruct clinical Boston University School of Medicine students and to develop both formal didactic and bedside teaching skills. Fellows work closely with an interdisciplinary team of providers including physicians, clinical nurse specialists and social workers. In addition, fellows work in collaboration with health care providers in the community and learn how community resources are both accessed and reimbursed.
Fellows are responsible for the overall case management of patients under the supervision and guidance of attending faculty physicians and in collaboration with advance practice nurses and social workers. Fellows follow patients when they are admitted to the acute care service to facilitate continuity of care and discharge planning.
Nursing Home Program
Four multilevel long-term care facilities serve as clinical sites for fellows to provide primary care in a nursing home setting. Each fellow provides primary care to a panel of 10-15 residents in one facility under the supervision of a faculty attending physician and in collaborative practice with a nurse practitioner for one year.
Inpatient Care/Boston Medical Center
Fellows participate in acute inpatient care on the Geriatrics Service with supervision by members of the Section of Geriatrics. The Service has a dedicated geriatrics attending, house staff team, and discharge planning team.
Geriatric Ambulatory Care/Boston Medical Center
Fellows participate in weekly clinics, following a panel of elderly patients with precepting supervision from attendings on the Geriatrics Service. Fellows also have experiences in the Geriatric Assessment Clinic.
Palliative Care Service
The Palliative Care Service has provided palliative care consultative services for inpatients and their families at Boston Medical Center since September 2007.  Patients with a wide range of advanced life-limiting illnesses are seen, including cancer, dementia, heart failure, respiratory failure and stroke.  Consultants deal with pain management, non-pain symptoms, and discussions of goals of care.  Psychosocial issues, spiritual concerns, and clarifying practical issues about plans of care are also addressed in an interdisciplinary manner.  As part of the palliative care rotation fellows also spend one week working with a community based hospice, Vista Care.
Rehabilitation and Movement Disorders
On this one-month rotation, fellows work under the direct supervision of the rehabilitation medicine attending with patients in the Physical Medicine and Rehabilitation outpatient clinic. They also work with members of the BMC Physical and Occupational Therapy staff in outpatient physical therapy sessions, outpatient seating clinic, and in the inpatient rehabilitation unit. Fellows see patients with a neurologist specializing in movement disorders for the last 2 weeks of the rotation in out patient clinic sessions in addition to attending a Day Program for one session and observing speech and swallow evaluations supervised by a speech and language pathology specialist.

EDITH NOURSE ROGERS MEMORIAL VETERANS HOSPITAL
Also known as the Bedford VA
200 Springs Road
Bedford, MA 01730
Located 15 miles northwest of Boston, the Bedford VA Hospital has been designated a "Center of Excellence in Geriatrics" for the Department of Veterans Affairs and serves as a major teaching center for the fellowship program. The Bedford VA is a mixed acute and chronic care hospital of over 700 beds, including 200 nursing home beds, 100 special care unit Alzheimer's and mixed dementia beds, a 21-bed inpatient Geriatric Evaluation and Management (GEM) unit along with a Geriatric Evaluation Management outpatient clinic and a Memory Disorders Clinic. Another major resource is the Geriatric Research, Education and Clinical Center (GRECC), one of 15 such centers supported by the Department of Veterans Affairs.
Clinical activities at Bedford include a combined outpatient/inpatient program that emphasizes preventive medicine in the elderly. Experiences also include nursing home care, intermediate care, acute care and geropsychiatry.