Richard H. Myers, Ph.D.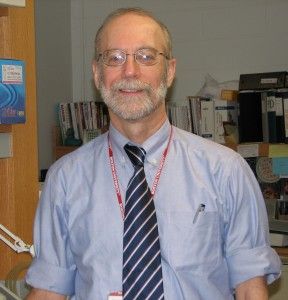 Education
1980 Post-doctoral., Human Genetics, Emory University, Atlanta, GA
1979 Ph.D., Behavior Genetics, Georgia State University, Atlanta, GA
1976 M.A., Psychology, Georgia State University, Atlanta, GA
1969 B.A. Psychology, University of Kansas, Lawrence, KS
---
Research Interests
My professional interests have focused upon the application of genetic research methods for the investigation of adult onset diseases with complex etiology (Parkinson's disease, coronary heart disease, Alzheimer's disease, pulmonary function, osteoarthritis, osteoporosis etc.). I have a long-standing interest in Huntington's disease and have participated in a wide range of research investigations for this disease. I have been a member of the New England Huntington's disease "Center Without Walls" since its inception in 1980. My HD studies may best be characterized as 'Neurobiological Studies' in that they include studies into the mechanisms of disease expression, including complex genetic modifier studies and a series of neuropathological studies of effects of disease expression in the brain. Additional interests are in the ethical issues influencing utilization of genetic test procedures.
I have been involved in a number of studies in positional cloning. I participated in the cloning of the gene for Huntington's disease in 1993. I initiated the genome scan project in the Framingham Study, and a genome scan in Parkinson's disease. My Parkinson's disease genetic linkage study, known as the "GenePD" study, involves an international collaboration of twenty clinical centers in Parkinson's disease. The study is seeking genetic loci involved in risk for PD. Since 1993 I have participated in genetic linkage studies for hypertension (the HyperGEN study, one of the NHLBI Family Blood Pressure Program Project studies), and the genome scan in the NHLBI Family Heart Study.
---
Selected Publications
Labadorf A, Choi SH, Myers RH. Evidence for a pan-neurodegenerative disease response in Huntington's disease and Parkinson's disease expression profiles. Frontiers in Molecular Neuroscience. 11 January 2018 | https://doi.org/10.3389/fnmol.2017.00430
Hui KY, Fernandez-Hernandez H, Hu J, Schaffner A, Pankratz N, Hsu N-Y, Chuang L-S, Carmi S, Villaverde N, Li X, Rivas M, Levine AP, Bao X, Labrias PR, Haritunians T, Ruane D, Gettler K, Chen E, Schiff ER, Pontikos N, Barzilai N, Brant SR, Bressman S, Cheifetz AS, Clark LN, Daly MJ, Desnick R, Duerr RH, Katz S, Lencz T, McGovern DPB, Myers RH, Ostrer H, Ozelius L, Payami H, Peter Y, Rioux JD, Segal A, Scott WK, Silverberg MS, Vance JM, Foroud T, Atzmon G, Pe'er I, Ioannou Y, Yue Z, Schadt EE, Cho JH,  Peter I.  Functional Variants in LRRK Confer Pleiotropic Effects on Crohn's Disease and Parkinson's Disease Risk. Science Translational Medicine. 10, eaai7795, 2018.
Reed ER, Latourelle JC, Bockholt JH, Bregu J, Smock J, Paulsen JS, PhD, Myers RH, and the PREDICT-HD CSF ancillary study investigators. MicroRNAs in CSF as prodromal biomarkers for Huntington's disease in the PREDICT-HD Study.  Neurology. 2017 Dec 27 (PMID: 29282329).
Lee JM, Chao MJ, Harold D, Abu Elneel K, Gillis T, Holmans P, Jones L, Orth M, Myers RH, Kwak S, Wheeler VC, MacDonald ME, Gusella JF. A modifier of Huntington's disease onset at the MLH1 locus. Hum Mol Genet. 2017 Oct 01; 26(19):3859-3867. (PMID: 28934397).
Chao MJ, Gillis T, Atwal R, Mysore JS, Arjomand J, Harold D, Holmans P, Jones L, Orth M, Myers RH, Kwak S, Wheeler VC, MacDonald ME, Gusella JF, Lee J-M. Haplotype-based stratification of Huntington's disease. European Journal of Human Genetics. 2017 Aug 23. (PMID: 28832564).
Neueder A, Landles C, Ghosh R, Howland D, Myers RH, Faull RLM, Tabrizi SJ, Bates GP. The pathogenic exon 1 HTT protein is produced by incomplete splicing in Huntington's disease patients. Scientific Reports 2017;7:1307- DOI:10.1038/s41598-017-01510-z. (PMID:28465506; PMCID: PMC3568346).
Choi SH, Labadorf AT, Myers RH, Lunetta KL, Dupuis J, DeStefano AL. Evaluation of Logistic Regression Models and Effect of Covariates for Case-Control Study in RNA-Seq Analysis. BMC Bioinformatics 2017; 18:91DOI 10.1186/s12859-017-1498-y. (PMID:28166718; PMCID:PMC5294900).
Trinh J, Gustavsson EK, Vilarino-Guell C, Bortnick S, Latourelle J, McKenzie MB, Tu CS, Nosova E, Khinda J, Milnerwood A, Lesage S, Brice A, Tazir M, Aasly JO, Parkkinen L, Haytural H, Foroud T, Myers RH, Sassi SB, Hentati E, Nabli F, Farhat E, Amouri R, Hentati F, Farrer MJ. DNM3 and genetic modifiers of age of onset in LRRK2 Gly2019Ser Parkinsonism: a genome-wide linkage and association study. Lancet Neurology. 2016 Nov; 15(12):1248-1256. (PMID: 27692902).
Bates G, Osborne GF, Ali N, Benjamin AC, Papadopoulou AS, Howland D, Tabrizi SJ, Faull RLM, Myers RH, Landles C, Neueder A. B4 Detection of the aberrantly spliced exon 1 – intron 1 htt mRNA in HD patient post mortem brain tissue and fibroblast lines. Journal of Neurology Neurosurgery & Psychiatry 87(Suppl 1):A10.2-A10· September 2016.
Wake C, Labadorf A, Dumitriu A. Hoss AG, Bregu J, Albrecht KH, DeStefano AL, Myers RH. Novel microRNA discovery using small RNA sequencing in post-mortem human brain. BMC Genomics. 2016; 17:776, DOI 10.1186/s12864-016-3114-3. (PMID:27716130; PMCID:PMC5050850).