Mentoring early career researchers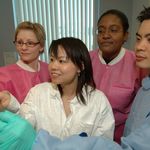 Grants available for trainees including students, post docs and residents.
CityLab's SummerLab Program provides an opportunity for students to learn and apply basic techniques and concepts related to biotechnology. Working in teams, the participants assume the role of researchers in a biotechnology company and work cooperatively to choose and perform appropriate laboratory-based investigations to solve problems in biotechnology.