Yearly Research Retreats
Evans Center Research Retreat
Wednesday, October 16, 2013; 670 Albany St., 107 /108: 1130am – 530pm
This traditionally successful Retreat is for and by trainees and faculty with ample opportunities to learn and network.
11:30-12:00  Networking over Luncheon/Brunch
12:00-12:10 Welcoming notes & Evans Center during 2013, Dr. Katya Ravid, Evans Center Director
12:10-12:15 Welcome notes by Dean and Provost, Dr. Karen Antman
12:15-12:25 DOM notes by Associate Chair for Research, Dr. Barbara Corkey
Representing Graduated ARCs
-From ARC to a University Center-
12:30-12:55 Dr. Darrell Kotton, Professor of Medicine, BUSM, "Beyond the iPS Bank: post-Evans Center ARC graduation for the CReM"
-An ARC collaboration with a national center (BNORC)-
1:00-1:15 Dr. Susan K. Fried, Professor of Medicine, BUSM, "BNORC + ARC +  (BNORC X ARC ) = COOL DATA + NIH GRANTS"
Milestones in Interdisciplinary Research and Discovery
1:15-3:00 10-minute presentations + 5-minute discussions by Evans Center ARC Directors
ARC: COMPUTATIONAL GENOMIC MODELS OF ENVIRONMENTAL & CHEMICAL CARCINOGENICITY (Drs. Monti and Sherr, Directors)
Speaker: Stefano Monti, PhD
Title: "Environmental cancer genomics: from transcriptional signatures to modes of action"
ARC: CALCIUM HOMEOSTASIS IN HEALTH AND DISEASE (Drs. Bolotina and Kirber, Directors)
Speaker: Victoria Bolotina, PhD
Title: "From Calcium in the stores to Parkinson's Disease and beyond"
ARC: MOLECULAR, BIOMECHANICAL AND GENETIC MECHANISMS OF ARTERIAL STIFFNESS (Drs. Cohen and Morgan, Directors)
Speaker: Francesca Seta, PhD
Title: "Arterial Stiffness ARC: Accomplishments and Future of a graduating ARC"
15 min Coffee Break
ARC: NANOTHERANOSTIC PLATFORMS FOR CANCER AND VASCULAR DISEASE (Drs. Herrera, Wong, Grinstaff and Karlson, Directors)
Speakers: Drs. Mark Grinstaff , Victoria Herrera, Karl Karlson, and Joyce Wong
Title: "Modular, combinatorial nanotheranostic paradigms "
ARC: METABOLIC DISEASES AND INSULIN RESISTANCE: STUDIES IN PATIENTS UNDERGOING BARIATRIC SURGERY (Drs. Ruderman, Apovian and Kandror, Directors)
Speaker: Neil Ruderman, MD, DPhil
Title: "Metabolic Diseases and Insulin Resistance; AMPK in Bariatric Surgery Patients"
Key Note Talk by Invited Pharma
3:00-3:45  Kate Yen, PhD, Agios Pharmaceuticals, Director, Biology
"Isocitrate Dehydrogenases at the interface of Metabolic Disease and Cancer:  A Biotech approach to Drug Discovery"
4:00-5:30  Round Table Discussions over Wine & Cheese (and more) Reception
Round Table Discussions by and for trainees with faculty participation.
Topic: Career Choices
Faculty Moderators: Drs. Jeff Browning, Leah Cataldo, Barbara Corkey, Bill Cruikshank, Vishu Puri, Kate Yen; Student Facilitator: Greg Wasserman, 3rd year Microbiology student

Topic: Individual Development Plan (IDP)
[for more information please visit this URL   http://myidp.sciencecareers.org/Home/About]
Faculty Moderators: Drs. Emelia Benjamin, Robina Bhasin, Isabel Dominguez; Student Facilitator: Justin Buendia, 3rd year Nutrition and Metabolism student
Topic: Business and Science
Faculty Moderators: Drs. Carl Franzblau, Orian Shirihai, From Office of Development, Mike Pratt & David Lough; Student Facilitator: Tim Calamaras, Myocardial Biology
Please RSVP to Robin MacDonald by Tuesday, Oct 8, 2013,
(Space is limited, so please RSVP soon)
___________________________________________________________________
Evans Center Research Retreat


Combined with DOM Centennial Celebrations

Friday, October 5, 2012;650 Albany St. X714 /715
8:00-8:30  Light Breakfast and Registration
8:30-8:40 Introductory notes, Katya Ravid, Evans Center Director, and David Coleman, Chair, Department of Medicine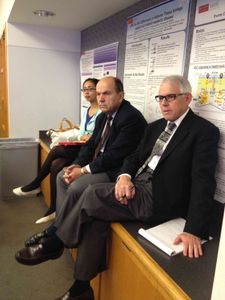 –Announcement of a New Award–
8:40-9:25 Rudolph Jaenisch, Professor of Biology, Whitehead Institute, MIT "Cellular reprogramming: are we on the brink of treating Parkinson, Diabetes and other diseases? Facts, hypotheses, unresolved issues"
9:30-11:00 10-minute presentations by Evans Center ARC Directors (8 presentations):"Milestones in Interdisciplinary Research and Discovery"

NANOTHERANOSTICS in NANOMEDICINE
Speakers:  Mark Grinstaff, Ph.D., Professor of Biomedical Engineering, Chemistry; Victoria Herrera, M.D., Professor of Medicine
Title:  "Multi-Modal NanoTheranostic Designs – addressing the 1%"
MECHANISMS AND TREATMENT OF ARTERIAL STIFFNESS
Speaker:  Richard A. Cohen, M.D., Professor of Medicine, Pharmacology and Experimental Therapeutics
Title:  "Mechanisms and Treatment of Arterial Stiffness"
MITOCHONDRIA in health and disease
Speaker: Steven C. Borkan, M.D., Associate Professor of Medicine
Title:  "Mito ARC: The most oxygen consumptive ARC on Earth"

OBESITY, CANCER AND INFLAMMATION
Speaker:  Lynn Moore, D.Sc., MPH, Associate Director, Medical Nutrition Sciences; Associate Professor of Medicine, Preventive Medicine & Epidemiology
Title:  "Overweight, Metabolic Disturbances, and Obesity-Related Cancers in Framingham  "

SEX DIFFERENCES IN ADIPOSE TISSUE BIOLOGY: MECHANISMS AND ROLE IN DISEASE RISK ASSOCIATED WITH OBESITY
Speaker:  Susan K. Fried, Ph.D., Professor of Medicine/Section of Endocrinology, Diabetes and Nutrition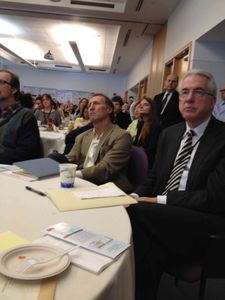 Title:  "The biology of pear shape"
CALCIUM HOMEOSTASIS in Health and Disease!
Speaker:  Victoria M. Bolotina, Ph.D., Professor of Medicine, Biophysics and Physiology
Title:  "Defects in calcium signaling: good, bad, or ugly?"
PROTEIN TRAFFICKING AND NEURODEGENERATIVE DISEASES: ALZHEIMER DISEASE AS A FIRST MODEL SYSTEM
Speaker:  Lindsay A. Farrer, Ph.D., Chief, Biomedical Genetics
Professor, Depts. of Medicine, Neurology, Ophthalmology, & Genetics and Genomics, Boston University School of Medicine and Depts. of Epidemiology & Biostatistics, Boston University School of Public Health
Title:  "Candidate Gene Study in the Endosome-to-Golgi Retrieval Pathway Reveals Association of Retromer Genes with Alzheimer Disease"

BOSTON UNIVERSITY iPS BANK
Speaker:  George Murphy, Ph.D., Assistant Professor of Medicine
Title:  "Expansion, Diversification, and Practical Application of the ARC-funded BU iPS Cell Bank"

11:00-11:15  Andrei Ruckenstein, BU Vice President and Associate Provost for Research "Interdisciplinary Research at BU: Highlights"
11:15-12:10 Round Table Discussions
ARC Directors will be divided to two large tables: 30 min each with Rudolph Jaenisch to discuss potentially new ideas (at practical and research levels) to survive in budget crisis; other topics.
Round Table Discussions by and for faculty and trainees. Topics selected by trainees.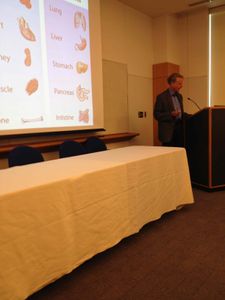 1. I Got My PhD … Now What? (Moderated by Rob Lowrence of Propel Careers)
2. From Bench to Bedside: What do we mean by translational research? (Moderated by Dr. William Cruikshank)
3. The Post Doc Experience: How to Find a Mentor and Get the Position (Moderated by Dr. Andrew Henderson)
4. Business and Science (Moderated by Drs. Carl Franzblau and Abdul Traish)
5. Balancing Family and Academics (Moderated by Drs. Emelia Benjamin and Maria Ramirez)
6. Mentors and Mentees: What to expect (Moderated by Dr. Gerald Denis)
12:10-12:45 Festive Lunch
___________________________________________________________________
Evans Center For Interdisciplinary Biomedical Research
Yearly Research Retreat Day (for faculty and trainees):
9.20.11, Museum of Science Boston Science Park; d'Arbeloff Suite, Boston, MA 02114
~~ Agenda ~~
845 – 900 Reception and Sign-in
900 – 910 Welcoming Notes: Dr. Katya Ravid, Evans Center Director
910 – 930 Dr. Andrei Ruckenstein, BU VP & Associate Provost for Research
"Inter- and Multi- Disciplinary Research at BU: how do we further promote it?"
930 – 1100 Highlight of Discoveries: ARC Presentations
1100 – 1215 For Faculty: Dr. Ron Corley, Associate Provost for Research: New institutional tools/approaches to aid research (11-11:10 am); Round Table Discussions, Dr. Mark Braun, Moderator (11:10 -12:15 pm)
"Evans Center Research: Where are we and how we continue"
1100 – 1215 For Trainees: Round Table Discussions, with faculty as moderators
"Topics of choice provided by Students' Reps"
1215 – 100 Lunch and Networking
100 – 130 Our Research in the Media
Dr. David Coleman (Professor of Medicine, DOM Chair) and
Sara Rimer (VP Marketing & Communication, BU Provost Office)
130 – 210 "Time Management" (For trainees and faculty)
Dr. Barbara Corkey (Professor of Medicine, DOM VC Research)
215 – 230 Coffee Break
230 – 315 "Science Beyond Academia"
A Presentation for Trainees by Dr. Brigham Hyde
315 – 500 Museum pass is available to participants at conferences
500- DOM graduate students dining/ networking (location and scope to be determined with MK, Drs. Cohen and Fried and students reps.)
Address inquiries to Robin MacDonald: remac@bu.edu; 617-6385052
___________________________________________________________________
Research Retreat Day: Collaborative Research and Future Growth
Monday 9.20.10, Heibert Lounge (E-14th floor)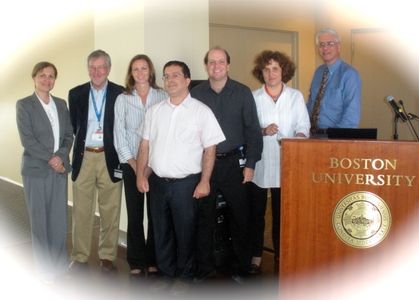 10 am to 4 pm
930 – 1000 Sign in
1000 – 1030 Welcome Notes, Dr. Katya Ravid, Evans Center Director
Introduction: BUSM Cancer Center Research Themes: "Potential
Synergies with ARCs and other Disciplines" (click for powerpoint)
Dean, Dr. Karen Antman; Cancer Center Director, Dr. Douglas Faller (click for powerpoint)
ARC Presentations:
1030 – 1100 "Biomarkers of Cardiovascular Disease: Post-Translational Modifications in Mouse and Mammals"; Mark E. McComb, PhD., Research Assistant Professor, Medicine. (click for powerpoint)
1100 – 1130 "The Road Not Taken: Golgi-Endosome Transport and Alzheimer Disease"; Lindsay A. Farrer, Ph.D., Chief Genetics Program and Professor of Medicine, Neurology, Genetics & Genomics, Epidemiology, and
Biostatistics (click for powerpoint)
1130 – 1200 "Democratizing Pluripotency: Reprogramming and the Generation of
Disease-Specific Induced Pluripotent Stem Cells"; Gustavo Mostoslavsky,
MD. PhD., Assistant Professor of Medicine and Microbiology
1200 – 1230 "The Blood Stream: Unexplored tributaries of the human microbiome";
Lisa Ganley-Leal, Ph.D., Assistant Professor of Medicine, Section of Infectious Diseases. (click for powerpoint)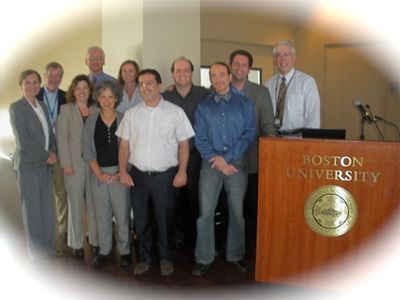 1230 – 115 Lunch

115 – 145 Introduction of new Pre-ARCs; Richard A. Cohen, PhD., Professor of Vascular Biology and Victoria Bolotina, PhD., Ion Channel and Calcium Signaling Unit, Department of Medicine (Arterial Stiffness and Hypertension; Calcium Homeostasis in Health and Disease)
145 – 215 "Adiporedoxin, a novel sex-dependent regulator of insulin sensitivity";
Paul F. Pilch, PhD., Professor of Biochemistry and Medicine (click for powerpoint)

215 – 245 "Mitochondria, The Power ARC"; Orian Shirihai, PhD., Associate
Professor of Medicine (click for powerpoint)

245 – 315 "Atrial fibrillation epidemiology and genetics in the community";
Introduction and presentation, Emelia Benjamin, PhD., Professor of
Clinical Cardiology and Elaine Hylek, PhD., Associate Professor of
General Internal Medicine (click for powerpoint)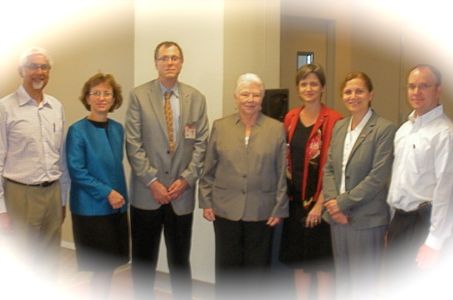 315 – 400 "From Discovery to Synergy with Pharmaceutical"; Michael Pratt,
Director of Corporate and Business Development and Vinit Nijhawan,
Director of Enterprise Programs, Office of Technology Development and
Dr. Orian Shirihai, PhD., Associate Professor of Medicine     (click for powerpoint)
400 – 500 Reception
___________________________________________________________________
ARC Celebratory Event: ARCS' inaugurations
Tuesday, February 16, 2010
650 Albany Street, X714/715
11:30 – 12:30
Speakers Luncheon with Graduate Students
1:00 – 1:15
Welcome Notes by Evans Center Director, Dr. Katya Ravid
Introductory Notes by Dean and Provost, Dr. Karen Antman and Dr. David Coleman, Chair, Medicine
Click to download a video of the presentation
1:15 – 2:15: Presentations by Evans Center ARC Directors
Dr. Lindsay Farrer, Director
Protein Trafficking and Neurodegenerative Diseases
Click to download a video of the presentation
Drs. Marie McDonnell and Lisa Ganley-Leal, Directors
Blood Microbiome
Click to download a video of the presentation
Dr. Kenneth Walsh, Director
Cardiovascular Consequences of Metabolic Disease
Drs. Orian Shirihai and Anthony Molina, Directors
Mitochondrial Dynamics in Health and Disease
Click to download a video of the presentation
2:15 – 3:00
Dr. Philip Zamore, Professor of Biochemistry and Molecular Pharmacology, UMass Medical School
"What Fruit Flies Teach Us About RNA Silencing"
Introduction by Dr. David Coleman
3:00 – 3:30
Reception with wine and cheese
3:30 – 4:15: Presentations by Evans Center ARC Directors
Drs. Mark McComb, Catherine Costello, Richard Cohen, Directors
Biomarkers
Click to download a video of the presentation
Drs. Gustavo Mostoslavsky and Darrell Kotton, Directors
Advancing Regenerative Medicine with The Boston University Induced Pluripotent Stem Cell Bank
Click to download a video of the presentation
Drs. Susan Fried and Paul Pilch, Directors
Sex Differences in Adipose Tissue: Mechanisms and role in disease risk associated with obesity
Click to download a video of the presentation
4:15 – 5:00
Dr. Bruce Spiegelman, Professor of Cell Biology, Dana Farber Cancer Institute, Harvard Medical School
"Transcriptional Control Of Adipogenesis and Systemic Energy Homeostasis"
Introduction by Dr. Stephen Farmer
5:00 –
Reception with wine and hors d'oeuvres