Sayon Roy, PhD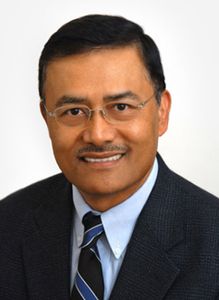 Professor
Education:
Ph.D. Boston University
Post-doctoral fellowship Harvard Medical School, Harvard University
General field of research:
Diabetic Microvascular Complications
Affiliations other than medicine:
Evans Center for Interdisciplinary Biomedical Research
Molecular Medicine
Department of Ophthalmology
Keywords:
Diabetic retinopathy, Gene therapy, Vascular basement membrane thickening, Gap junction intercellular communication, Animal/primate model of diabetes, Extracellular matrix and diseases
Summary of research interest:
We are working on several projects related to the pathogenesis of diabetic microangiopathy, in particular, diabetic retinopathy. One of the projects involves applying a novel gene therapeutic strategy to normalize altered gene expression in the retinal capillary cells with the goal of preventing characteristic lesions of diabetic retinopathy.
A second project, aims at understanding the role of gap junction intercellular communication in the development of retinal vascular lesions associated with diabetic retinopathy. In this project we are investigating whether high glucose alters the expression of endothelial specific connexins (Cx37, Cx40, Cx43), and connexin phosphorylation.
A third project attempts to unravel the mechanism(s) underlying blood retinal barrier breakdown in diabetic retinopathy. Because tight junction serves as the permeability barrier we are currently investigating whether the synthesis of occludin and ZO-1, and other endotheli  al tight junction proteins are altered by high glucose condition in vitro and in retinal capillaries of diabetic rats.
A fourth project attempts to identify a biochemical link between the pathogenesis of diabetic retinopathy and glaucoma from the perspective of high glucose-induced overexpression of ECM proteins in trabecular meshwork and Schlemm's canal. Related to this project, we are also investigating if high HbA1c levels are linked to increased IOP in glaucomatous patients.
Contact information:
Office
650 Albany Street
Phone: 617-638-4110