Program Information
The Department of Dermatology offers both degree and non-degree programs.  All programs involve direct patient care with hands-on clinical participation under clinical faculty supervision. Application requirements include a medical degree from a recognized university, a year of internship, one or more years of experience in medicine (preferably with an emphasis in dermatology), and proficiency in English. TOEFL or IELTS scores are required.
Degree Programs
The Department of Dermatology offers the following programs of study leading to Boston University School of Medicine degrees:
Master of Science in Dermatology (2 years)
Doctor of Science in Dermatology (4 years)
The Master of Science and Doctorate programs, are designed for medical graduates seeking advanced training in dermatology, are based on U.S. graduate medical training methods, encompassing didactic lectures, seminars, conferences, direct patient contact, and in the case of the Doctorate degree, a thesis requirement. All clinical sessions are under direct faculty supervision, and trainees are given increased responsibility as their training progresses.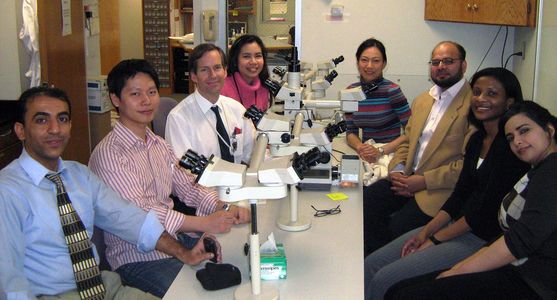 The Master of Science and Doctorate Programs are academic, course-based programs that provide clinical dermatology training with a sound basis in the fundamentals of dermatologic science. Students in these programs are assigned to clinical outpatient sessions (4 to 6 per week) at the Boston Medical Center, where they have primary patient responsibility under faculty supervision, as well as rotations in the Department's Section of Dermatopathology and inpatient consultation service. Specific rotations in dermatologic and laser surgery provide additional instruction in these increasingly important dermatologic treatment modalities. Daily clinical exposure is complemented by lectures, seminars and conferences by members of the faculty and invited prominent speakers.
Trainees are initially enrolled in the Master of Science Program only.  Those interested in continuing their training beyond the Masters, may apply for the one-year Certificate in Clinical Dermatology Program (see below) or for the Doctorate of Dermatology Program for an additional two years of training.  Acceptance into the Doctorate program is contingent upon successful completion of the Masters Program, meeting the minimum score requirement on the ABD Inservice Exam, and identification of a suitable mentor and project.
Non-Degree Certificate in Clinical Dermatology Programs
The Certificate in Foundational Clinical Dermatology is a program that aims to educate students in General Dermatology, who may not have an immense background or experience in the field. Students are permitted to enroll in this program initially and subsequent admission to the Masters Program is contingent upon successful completion of the first year requirements.
The Certificate in Advanced Clinical Dermatology is a program geared towards dermatologist who desire a more in-depth knowledge and practice of dermatology. This program may be tailored to accommodate certain areas of interest of the student. Possible concentrations are as follows:
In both these programs, there is a concomitant academic program. Lectures and seminars by world-renowned dermatologists and scientists are offered (at least twice per week) throughout the year as well as Grand Rounds, where interesting cases are discussed by leading dermatologists.
Enrollment
Once accepted, trainees are enrolled as special students at the Boston University School of Medicine and are covered by the School's malpractice and health insurance policies. The University will process your I-20 for a F1 visa after receipt of your confirmation, deposit, and paperwork.
Instruction of trainees in the Department of Dermatology is yearlong from July 1 through June 30.  Three weeks of vacation per year is customary.
All full-time degree and non-degree programs are tuition-bearing. The tuition fee set by Boston University School of Medicine currently stands at USD $60,864 per year.
All candidates applying to the Masters of Science in Dermatology program must submit proof of funding totaling at least $175,000 through government sponsorship, family/self-funding or loans.
For further information contact:
Debjani Sahni, MD
Assistant Professor of Dermatology
Department of Dermatology
Boston University School of Medicine
609 Albany Street
Boston, Massachusetts 02118 USA
dermtrng@bu.edu
Tel: (617) 358-9728
Fax: (617) 358-9709