Rutao Cui, MD, PhD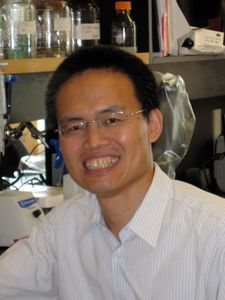 Associate Professor of Dermatology
Director of the Pigment Cell Biology Program
Administrative Office:
Boston University School of Medicine, Dept of Dermatology
609 Albany Street, Boston, MA 02118
Tel: 617-638-5500  Fax 617-638-5515
Summary
Rutao Cui, MD, PhD is an Associate Professor and the Director of the Pigment Cell Biology Program. Dr. Cui was trained in the laboratory of Dr. David Fisher at the Dana Farber Cancer Institute. Dr. Cui was previously on the faculty at Tufts University School of Medicine in the Departments of Medicine and Genetics. His primary research interests include: understanding molecular mechanisms of melanoma development, defining the molecular effects of UVB radiation on melanocyte growth and differentiation; and developing murine genetic models for human melanoma. Dr. Cui is the author of over 30 publications including seminal work defining the mechanism of UVB effects on melanocyte growth and the tanning response. Dr.Cui's work is supported through funding from the National Institutes of Health, American Cancer Society as well as several private foundations.