Meera Mahalingam, MBBS, PhD, FRCPath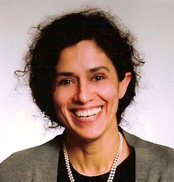 Professor of Dermatology, Pathology and Laboratory Medicine
Boston University School of Medicine
Administrative Office:
Boston University School of Medicine, Dept of Dermatology
609 Albany Street, Boston, MA 02118
Tel: 617-638-5574
Fax 617-638-5515
Education
| | | |
| --- | --- | --- |
| 1985 | MBBS | Darbhanga Medical College, Mithila University, Darbhanga, India |
| 1988 | MS | College of Medicine, University of Florida, Gainesville, FL, USA |
| 1989-1995 | Residency | Anatomic & Clinical Pathology, Arrowe Park/Royal Liverpool Hospital, Ashford Hospital, Middlesex, King's College Hospital, London, UK |
| 1995 | PhD | University of London, London, UK |
| 1995-1998 | Residency | Anatomic & Clinical Pathology, Anatomic & Clinical Pathology, Department of Pathology, Boston Medical Center, USA |
| 1998-2000 | Fellowship | Dermatopathology, Dermatopathology Section, Department of Dermatology, Boston University School of Medicine, Boston, MA |
Clinical Specialty and/or Research Interest
Meera's  special interests include cutaneous lymphoproliferative disease and on improving diagnostic accuracy of various skin tumors with particular emphasis on atypical pigmented lesions by examining the morphologic features of lesions by light microscopy and utilizing techniques that include the genomic analyses of select mutations affecting the MAP kinase pathway (known to be commonly affected in melanocytic neoplasias) to explore their potential as ancillary methods for diagnosis or prognosis.
Summary
Meera has over a 125 publications in reputed scientific journals such as Cell, Modern Pathology, British Journal of Dermatology, Journal of the American Academy of Dermatology, Human Pathology, Histopathology and Oncogene.  In addition,  she has book chapters in Fitzpatrick's Dermatology in General Medicine, Methods in Molecular Biology and Cutaneous Hematopathology.
Meera has served on the Board of the American Society of Dermatopathology since 2003 in multiple leadership positions. These include Director of Quality Assurance and Laboratory Proficiency (2003-07, during which she pioneered the digital quality assurance program), Director of the Journal CME program (2008-2012) and currently, as the ASDP Director of the companion meeting at USCAP (2014-2016).
Meera serves on multiple Editorial boards. Briefly, these include Journal of Cutaneous Pathology since 2007 (official journal of the American Society of dermatopathology, where she initiated the journal CME program in 2008), Modern Pathology since 2011 (official journal of the United States and Canadian Academy of Pathology) and Human Pathology since 2013.
Meera has presented and continues to present at local, national and international meetings. In 2011, she received the Dr L Marquis Memento Award, for best scientific speech at the National Conference of the Indian Academy of Dermatology, Venerology and Leprosy and more recently, she was honored by the New England Society of Pathologists to deliver the 2013 Stanley L Robbins Lecture.
Selected Publications
1. Chung HJ, Mahalingam M. Angiogenesis, vasculogenic mimicry and vascular invasion in cutaneous malignant melanoma – implications for therapeutic strategies and targeted therapies. Exp Rev Anticancer Therapy 2014 Feb 9 [Epub ahead of print]
2. Gupta R, Richards JE, Emley A, Aung PP, Kluger Y, Mahalingam M, Wajapeyee N. PTEN functions as a melanoma tumor suppressor by regulating the host immune response. Oncogene 2013 Oct 21. [Epub ahead of print]
3. Feller K, Yang S, Mahalingam M. Immunohistochemistry with a mutation-specific monoclonal antibody as a screening tool for the BRAFV600E mutational status in primary cutaneous malignant melanoma. Mod Pathol. 2013;26:414
4. Filitis D, Mahalingam M. Adverse cutaneous reactions to BRAF-inhibitors- An analysis with emphasis on effects associated with each inhibitor and therapeutic time interval to onset. Am J Clin Dermatol 2013;14:461
5. Setia N, Abbas O, Sousa Y, Garb JL, Mahalingam M.  Profiling of ABC-transporters ABCB5, ABCF2 and nestin positive stem cells in nevi, in situ and invasive melanoma. Mod Pathol. 2012;25:1169
6. Miller DD, Emley A, Yang S, Richards JE, Lee JE, Deng A, Hoang MP, Mahalingam M. Mixed versus pure variants of desmoplastic melanoma: a genetic and immunohistochemical appraisal. Mod Pathol. 2012;25:505
7. Rushing EC, Stine MJ, Hahn SJ, Shea S, Eller MS, Naif A, Khanna S,  Westra WH,  Jungbluth AA, Busam KJ, Mahalingam M, Alani RM. Neuropilin-2: a novel biomarker for malignant melanoma. Hum Pathol. 2012;43:381