Deon Wolpowitz, MD, PhD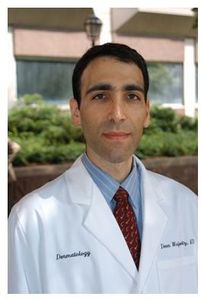 Assistant Professor of Dermatology, Pathology and Laboratory Medicine
Boston University School of Medicine
Clinic:
To Schedule An Appointment: 617-638-7420
Shapiro Ambulatory Care Center
725 Albany Street, Suite 8B, Boston, MA 02118
Fax: 617-638-7289
Administrative Office:
Boston University School of Medicine, Dept of Dermatology
609 Albany Street, Boston, MA 02118
Tel: 617-638-5500
Fax: 617-638-5515
Education
| | | |
| --- | --- | --- |
| 2002 | MD | Columbia University  College of Physicians and Surgeons, New York, New York |
| 2002 | PhD | Columbia University, Center for Neurobiology and Behavior, New York, New York |
| 2008 | Fellowship | Boston University, Boston, MA |
Summary
Deon Wolpowitz, MD is an Assistant Professor of Dermatology and Pathology and the Dermatopathology Section of the Department of Dermatology at Boston University School of Medicine after both successfully completing both his dermatology residency and a two-year dermatopathology fellowship at BU in 2008. Dr. Wolpowitz received his MD and PhD from Columbia University and also did post-doctoral research at Harvard Medical School. He has already published several articles and has co-authored a textbook chapter on osteoporosis, vitamin D deficiency and photoprotection. Dr. Wolpowitz is board certified in Dermatology and Dermatopathology.
Clinical Specialties and Research Interests
Selected Publications
1. Silva CY, Goldberg LJ, Mahalingam M, Bhawan J, Wolpowitz D. (2011) Nests with numerous SOX10 and MiTF-positive cells in lichenoid inflammation: pseudomelanocytic nests or authentic melanocytic proliferation? J Cutan Pathol. 38(10):797-800.
2. Abbas O, Krejci N, Wolpowitz D. Solitary hyperkeratotic papule on the right index finger. (2010). Clin Exp Dermatol.35(8):933-4.
3. Mahoney A, Garg A, Wolpowitz D, Mahalingam M. (2010). Atypical granular cell tumor-apropos of a case with indeterminate malignant potential.  Am J Dermatopathol. Jun;32(4):370-3.
4. Karakis I, McGeeney B, Demierre MF, Thiele JJ, Wolpowitz D, Bhawan J. (2007).  Acquired hypopigmentation (leukoderma) as a presenting feature of metastatic amelanotic melanoma with brain involvement. Arch Neurol. 64,1786-7.
5. Wolpowitz D and Gilchrest B.A.  The Vitamin D questions:  How Much Do You Need and How Should You Get it? (2006) J Am Acad Dermatol  54, 301-17.
6. Bao, J., Wolpowitz, D., Role, L.W., and Talmage, D.A. (2003)  Back Signaling by the NRG-1 intracellular domain. J. Cell Bio 161, 1133-41.
7. Wolpowitz, D., Mason, T.B.A., Dietrich, P., Mendelsohn, M., Talmage, D.A., and Role, L.W. (2000) Cysteine-Rich Domain Isoforms of the Neuregulin-1  Gene Are Required for Maintenance of Peripheral Synapses. Neuron 25, 79-91