Amy Y-Y Chen, MD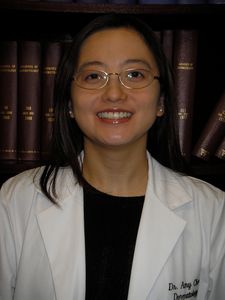 Assistant Professor of Dermatology
Boston University School of Medicine
Clinics:
To Schedule An Appointment: 617-638-7420
Shapiro Ambulatory Care Center
725 Albany Street, Suite 8B, Boston, MA 02118
Fax: 617-638-7289
Boston University Affiliated Physicians at Charles River
930 Commonwealth Ave
Boston, MA 02215
Tel: 617.414.6800
Fax: 617.414.6817
Administrative Office:
Boston University School of Medicine, Dept of Dermatology
609 Albany Street, Boston, MA 02118
Tel: 617-638-5500
Fax: 617-638-5515
Education
1997-2001
Undergraduate
Massachusetts Institue of Technology, Cambridge, MA
2004-2005
Post Sophomore Fellow
Department of Pathology, University of Pittsburgh, Pittsburgh, PA
2002-2007
Medical School
Wayne State University, Detroit, MI
2007-2008
Internship
MetroWest Medical Center/Framingham Union Hospital, Framingham, MA
2008-2009
Clinical Trial
Research FellowshipWright State University, Department of Dermatology, Dayton, OH2009-12
2011-12Residency
Chief ResidentWright State University, Department of Dermatology, Dayton, OH
Summary
In addition to general dermatology, Dr. Chen's clinical interests include inpatient dermatology and complex medical dermatology such as psoriasis, autoimmune blistering disorders, as well as connective tissue diseases.  Furthermore, Dr. Chen is interested in medical education as well as mentorship development, and developing ties with the international dermatology community.
Dr. Chen is the recipient of an International Travel Grant from the American Academy of Dermatology, and mentorship awards from both the Medical Dermatology Society and Women's Dermatologic Society.
During her free time, Dr. Chen enjoys traveling and learning about different cultures and cuisines.  Dr. Chen is fluent in Mandarin Chinese and Taiwanese.
Selected Publications

1. Trevino J, Grosshandler J, Chen AY, Chiang C, Serrao R, Dohil M.  Multiples in dermatology: markers for special considerations in diagnosis, therapy and prognosis.  J Drugs Dermatol.  2012; 11(7) 812-7.
2. Chen AY, Janik MP, Moad JC, Rubin MB.  Multiple Papules and Nodules of the Scalp. Arch of Dermatology.  146(8): 911-916.  August 2010.
3.Chen AY, Zirwas MJ, Heffernan MP Nephrogenic Systemic Fibrosis, A Review. J Drugs Dermatol.  9(7): 829-834. July 2010.
4. Chen AY, Zirwas MJ.  Steroid-Induced Rosacealike Dermatitis: Case Report and Review of the literature.  Cutis. 83(4): 198-204. April 2009.
5. Chen AY, Eide MJ, Shwayder TA.  Glomuvenous malformation in a boy with transposition of the great vessels: a case report and review of literature. Pediatric Dermatology.  26(1): 70-74.  Jan-Feb 2009.