Congratulations Dr. Larson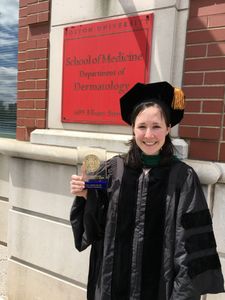 Dear Colleagues,
It is my great pleasure to announce that Dr. Allison Larson has been selected as the recipient of the 2016 Boston University Educator of the Year Award for the Pre-clinical Program.
This award was established in 1999 to recognize, honor and reward BUSM faculty who give special effort to ensure the best education for BUSM students.  Nominations originate from BUSM/GME students and are affirmed by their faculty peers and based on overall ability to educate students, main student interest in material, interact with students, availability to students, interest and concern for students preparedness and clarify of presentations.
I wholeheartedly agree that Dr. Larson fits these criteria and am thrilled that her efforts at providing outstanding teaching to the BUSM students is being recognized in such a meaningful way.
Please join me in congratulating Dr. Allison Larson on this wonderful accomplishment!
Best regards,
Rhoda