Meet the CRRO Team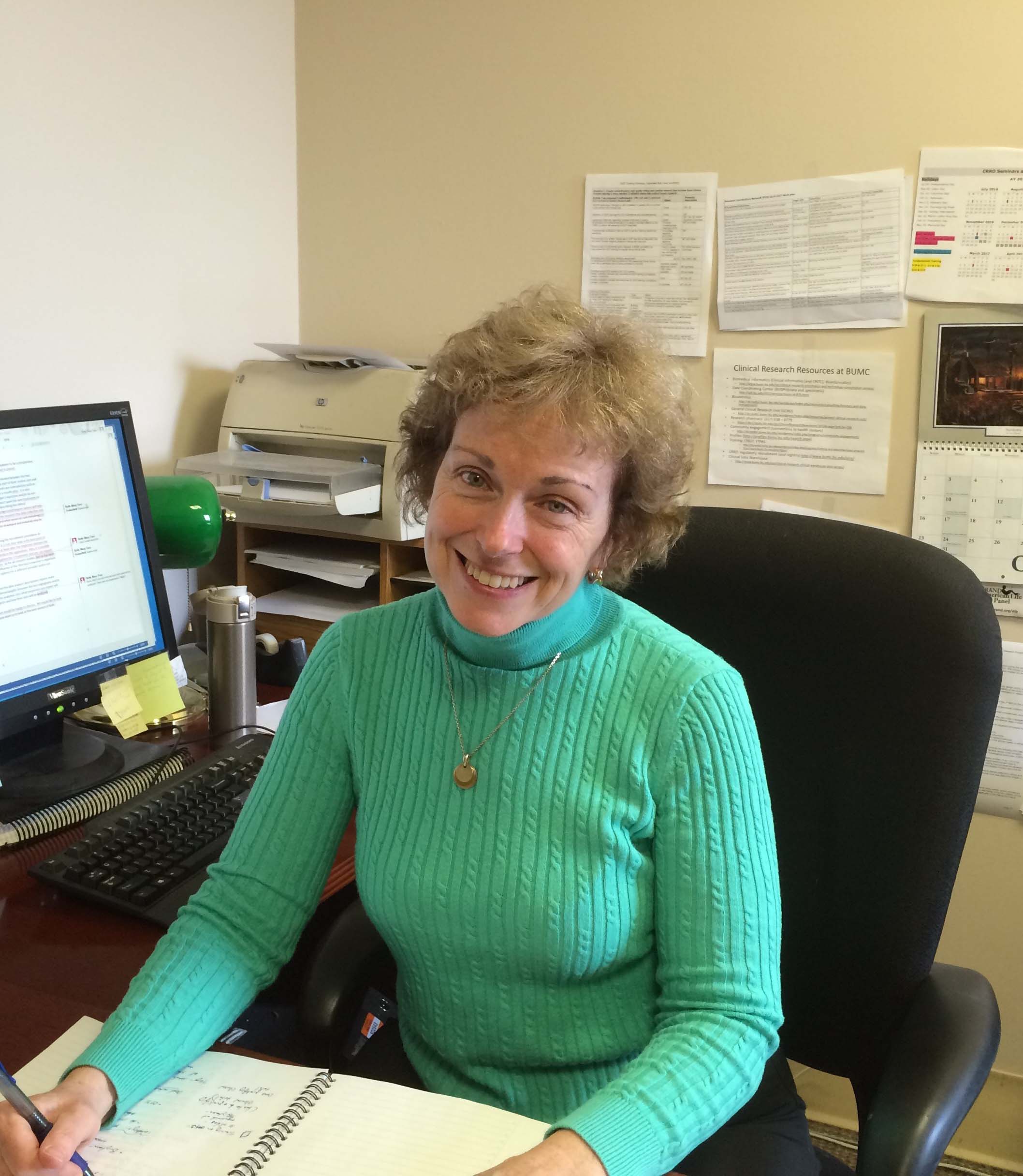 Mary-Tara Roth, RN, MSN, MPH
Director
617-638-8876
mtroth@bu.edu
As Director of the CRRO, Mary-Tara is responsible for defining the office's services and overseeing the implementation of those services to support clinical researchers at BUMC.  In addition, she works at providing services to investigators and study teams, especially in the areas of regulatory consultation and training for all levels of the research team.
Mary-Tara graduated from Tufts University with a BS in Psychology. She also earned a second BS in Nursing from Johns Hopkins University, and a Master's in Nursing and a Master's in Public Health from Johns Hopkins University.  She has also taken 5 courses in clinical research in the BU MACI and Met College programs to earn a certificate in Clinical Research.
Before becoming a nurse, Mary-Tara gained extensive teaching and business experience, working as an assistant teacher focusing on language development in grade school children and then working at a start up high tech PR and marketing company for 8 years. After earning her BS in nursing, she worked as a neuroscience nurse at Johns Hopkins Hospital for five years while working on her masters degrees. In addition to her clinical experience, Mary-Tara's research experience includes 5 years working as project manager for a large scale Alzheimer's disease prevention study (and work on other smaller studies within the Alzheimer's Disease Clinical and Research Program) and 3 years as Research Subject Advocate for the GCRU. In addition, Mary-Tara has been a research participant in seven studies (and counting!).

Karla Damus, PhD, MSPH, MN, RN, FAAN
Clinical Research Regulatory and Education Manager
617-638-8862
damusk@bu.edu
As the Clinical Research Regulatory and Education Manager, Karla assists clinical researchers at BUMC in the understanding of and compliance with the regulations, guidances, policies and best practices guiding clinical and human subjects research. She provides consultations on protocol planning, study design, IRB application submissions, study implementation, and evaluation. She also organizes, maintains and develops current and new educational offerings on the proper conduct of research for all levels of the research team.
Karla is a perinatal epidemiologist, researcher, educator and nurse and has conducted research to prevent adverse perinatal outcomes and reduce MCH disparities in high risk communities. She received her PhD in Epidemiology from UC Berkeley, a MSPH from the UCLA School of Public Health, and a MN and BSN from the UCLA School of Nursing. She has been on grant review committees for the NIH and HRSA and was a member of the NIH National Advisory Council for Nursing Research.