Ali Jiwani, M.D.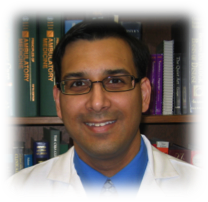 Pulmonary & Critical Care Medicine Fellow, Boston Medical Center
Spira-Lenburg Lab
Education
B.S., Biology, Massachusetts Institute of Technology, Cambridge, Massachusetts, 2003
M.D., Medicine, Baylor College of Medicine, Houston, Texas, 2008
Internship & Residency Internal Medicine, University of Alabama, Birmingham, Alabama, 2011
Board Certifications: Internal Medicine
Contact Information
Email: jiwani@bu.edu
Research Interests
Biomarker development for early detection of lung cancer.
Publications  

Mullani NA, Herbst RS, Abbruzzese JL, Barron B, Lamki L, Charnsangavej C, Kim E, Tran HT, Jiwani A and Gould KL; First Pass FDGMeasured Blood Flow in Tumors: A Comparison with O-15 Labeled Water Measured Blood Flow, Clinical Positron Imaging, Volume 3, Issue 4, July-August 2000, Page 153.
Marlow, C., Jiwani, A., and Hamel, J.; Scale-up of production and purification of tenascin-14 in Escherichia coli. American Chemical Society National Meeting, Poster Presentation. Boston, MA. August 2002.
Tran, K., Richardson, L., Hess, S., Jiwani, A., Marlow, C., Akati, C., Hamel, J., Griffith, L., Wells, A.; Matrikine EGF-like Repeats of Tenascin-C Signal Preferentially from the Cell Surface. Gordon Research Conference: Signal Transduction from Engineered Extracellular Matrices. Poster Presentation. New London, CT. June 2002.