Daniel P. Alford, MD is presented with AMA Foundation Health Education Award
We would like to congratulate Dr. Alford for being an honored recipient of the AMA Foundation Health Education Award for 2014. The AMA Foundation Health Education Award is presented in association with the AMA House of Delegates and was established to encourage and to recognize the professional or public health education activities of practicing physicians. Special consideration was given to those physicians working in the areas of drug and alcohol abuse. The award is supported by a grant from the John P. McGovern Foundation.


The Barry M. Manuel Office of Continuing Medical Education at Boston University School of Medicine has been sponsoring CME activities since 1973. The Boston University School of Medicine was awarded Accreditation with Commendation through July 2018 by the Accreditation Council for Continuing Medical Education and was also awarded Accreditation with Distinction through November 2016 by the American Nurses Credentialing Center's Accreditation Program for providing Continuing Nursing Education.
We offer many services that are specifically tailored to help you plan, fund, and execute your next activity:
Accreditation Compliance – CME and CNE
Project/Conference Management
Marketing to Practicing Clinicians
Pharmaceutical Funding Application/Management/Compliance
Educational Design
Registration Services
Performance/Quality Improvement
Maintenance of Certification
Graphic Design
* Our services are also available for non-CME/CNE meetings, conferences, and projects. Please contact us to discuss your needs.


Boston Magazine's Top Docs Issue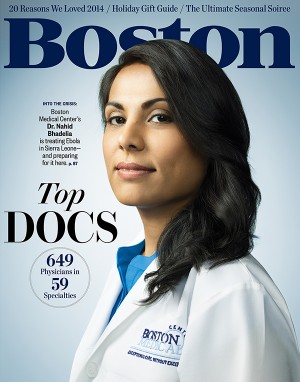 Boston Magazine's annual Top Docs issue has hit the newsstands, and 62 BUSM faculty and Boston Medical Center physicians are listed as "tops" in their respective fields. Our own Nahid Bhadelia, MD, Infectious Diseases, is pictured on the magazine's cover and featured about her work caring for Ebola patients in Sierra Leone.
In addition, Thea James, MD, Emergency Medicine, is part of a story titled, "A Day in the Medical Life," which tracked personal health stats of five healthcare workers over a 24-hour period. Thea logged 19,465 steps (9.37 miles).


Also See