BUMC Goes Latin! Celebrate Multicultural Diversity with Students, Faculty, Staff, Patients and Musicians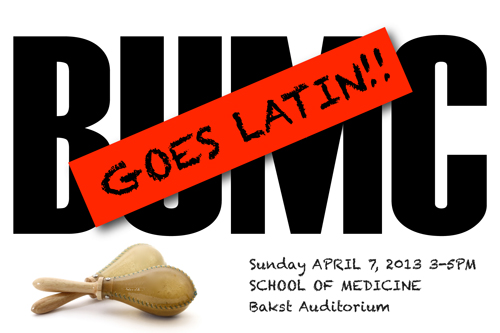 On Sunday, April 7, the great variety and rhythmic wonders of Latin music will be highlighted on the BU Medical Campus. A concert featuring a select group of Berklee College of Music artists, the BUMC Band, and other guest musicians associated with the Medical Campus Arts Outreach Initiative will be performing. The program will review the origins of Latin music beginning with the music of Spain, traveling across Latin America and the Caribbean, until reaching the Latin influence in American music.
During this event two Latino physicians will be recognized for their contributions to Boston Medical Center and Boston University School of Medicine.
Admission is free on a first come first served basis. Parking for concert attendees is available at the 710 Albany Street garage. Please have your ticket validated at the concert entrance.
This event is presented by
Boston University School of Medicine, Office of Diversity and Multicultural Affairs,
Latino Medical Student Association
Medical Campus Arts Outreach Initiative