Residency Program Continued
The diagnostic pathology lab on the third floor is adjacent to the BU pathology research space on the fourth floor and shares the most modern pathology equipment available, such as confocal, FACScan and immunofluorescence microscopes.
The Clinical Laboratories are modern laboratories with state-of-the-art automation and robotics and are located in 670 Albany Street.  Newly refurbished offices for residents are located in an adjoining building.
Community
Boston is a lively cultural center with a fine arts museum, numerous art galleries, the Boston Symphony Orchestra, theater, groups, opera and a heavy concentration of educational institutions. The New England countryside is easily accessible and there are opportunities for a wide variety of winter and summer sports. The medical center is located on an attractive campus in Boston's historic South End.
Stipends and Other Benefits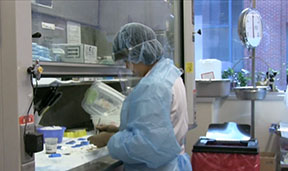 The presence of a strong house officer union at Boston Medical Center ensures that residents receive premium pay and benefits. Residents receive not less than $61,312 per annum (2018) with stipends increasing approximately $1,500 for each additional year of training. Residents are given four weeks of paid vacation a year and medical and dental insurance are available at low group rates. The hospital also provides short-term disability, long term disability and malpractice insurance at no cost to the resident.
Parking is available at reduced rates in our recently completed parking deck. For those residents who elect not to drive, the hospital offers discounted rates on public transportation passes.
Applications
Residency candidates must be graduates of approved medical schools in the US or Canada. Graduates of foreign medical schools must have an ECFMG certificate. Applicants must apply through ERAS for this program. The deadline for submission of applications is September 28 for appointments beginning the following July 2019.
Interviews will be held on Wednesdays and Fridays in the Month of October, November, and December.
Address inquiries to:
Joel Henderson, MD
Director of Residency Training Program
Dept. of Anatomic Pathology
Biosquare 3
670 Albany Street, 3rd Floor
Boston, MA 02118
Phone: (617) 414-5314; Fax (617) 414-5315 (Daphney Noel, Residency Program Coordinator) 
email: Pathology.Residency@bmc.org
Program Strengths
Structured curriculum supported by didactic lectures and seminars.
Strong subspecialty exposure in AP, especially GI, Cytopathology, Gyn, and Hemepath.
Excellent Dermpath training under the direction of Dept. of Dermatopathology, which has an independent Fellowship program.
Medical Examiner's Office housed adjacent to campus.
Autopsy numbers adequate for board certification.
Ample opportunities for performance of bone marrow biopsies.
A national reference laboratory for hemoglobinopathies.
An internationally recognized Amyloid treatment center.
Participation in ASCP teleconferences and CAP PIP, Autopsy and Digital Slide programs.
Excellent work environment with state-of-the-art equipment and brand new office space.
Attendance at regional and national pathology meetings encouraged and supported.
Every resident at BMC enjoys the benefits of the Committee of Interns and Residents such as:

Lowest resident parking rates of all area hospitals
Highest resident salary in the state
100% paid disability
Lowest health insurance cost for individuals AND their families
Access to CIR staff support for any problems with your residency program