Maria V. Panchenko, Ph.D.
Assistant Professor

Contact
Boston University School of Medicine
Department of Pathology and Laboratory Medicine
670 Albany Street, #416
Boston, MA 02118
.

.
.
Education
BA in Biology Moscow State University
MS in Biochemistry Moscow State University Department of Biochemistry
Ph.D in Biochemistry Moscow State University Department of Biochemistry
Training
Postdoctoral fellow, Department of Biochemistry, Moscow State University, Russia
Associate Research Scientist, Department of Biochemistry, Boston University School of Medicine, Boston, MA
Associate Research Scientist, Arthritis Center, Department of Medicine,
Boston University School of Medicine, Boston, MA
Instructor of Medicine, Renal Section, Department of Medicine, Boston University Medical Center, Boston, MA
Research Interests:
Multicellular organism consists of various highly specialized cells that are known to express different sets of specific proteins and perform diverse functions. How do cells with identical genetic information feature variety of phenotypes? An important mechanism accounting for such differences operates on epigenetic level and utilizes chromatin structure. It has become clear now that proper packaging of DNA strands is by far not the only function of chromatin. By virtue of dynamic post-translational modifications and protein-protein interactions chromatin can regulate DNA metabolism and transcription. The proper functioning of this chromatin-mediated signal transduction network is required for DNA maintenance and integrity, while defects are known to result in inappropriate cell division, DNA damage, instability leading to various diseases.
An important breakthrough in the area of chromatin research was the discovery that covalent modification of histones can regulate gene transcription, DNA replication and repair. A number of conserved aminoacids within the N-terminal tails of histones can be modified by acetylation, methylation, phosphorylation, and SUMOylation. This in turn alters chromatin structure and its interactions with transcription related factors, DNA and RNA polymerases, DNA repair complexes, other crucial regulatory factors in the cell nucleus. The covalent modifications of histones are reversible, dynamic and therefore provide a set of efficient regulatory mechanisms. Histone modifying enzymes are often found within the large multisubunit complexes. Proteins within these complexes contain various interaction domains that have affinity to specific modified histones, such as for example bromodomains and chromodomains. Thus chromatin-mediated transcription is based on a network of regulated protein-protein interactions and operates in combinatorial mode.
Our broad long term goal is to determine how chromatin and factor modifications regulate DNA metabolism in normal and disease state.
We characterized the novel PHD zinc finger protein PHF17/JADE1 and reported for the first time that JADE1 is a transcriptional factor that promotes histone H4 acetylation in vivo and in vitro. Moreover we found that JADE1 is responsible for bulk histone H4 acetylation levels in epithelial cells. The unique histone H4 specificity of JADE1 is known to be characteristic to TIP60 and HBO1 which belong to the MYST family of Histone Acetyl Transferases (HATs). We found that JADE1 interacts with TIP60 and HBO1. Interestingly, all three JADE1/2/3 paralogs as well as ING4/5 tumor supressors co-purify within novel HBO1 complex (J. Cote, Canada), which is a HAT Binding Origin Replication Complex1. HAT activity of HBO1 is thought to be important for the DNA replication licensing that occurs during the G1 phase of the cell cycle.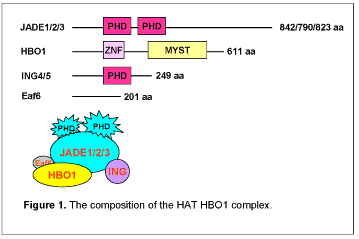 We are interested in investigating potential role of JADE1/2/3 and HBO1 in the cell cycle and are considering several possibilities.
Thus, HBO1-JADE1-ING4/5 might affect DNA replication by acetylating histones at the origin replication sites and thereby affecting interactions with other replication factors. In addition, the activities of HBO1-JADE1 might regulate expression levels of cell cycle related factors by affecting their transcriptional rates or protein stability and half-life.
It is established now that histone acetylation can regulate chromatin transcription. We find that JADE1 and HBO1 mutually stabilize each ot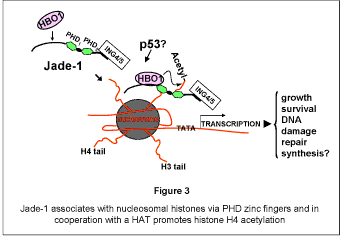 her and that HBO1 enhances JADE1 transcriptional activity in a cooperative mode. Nothing is known about transcriptional targets of both partners. We are interested to determine potential transcriptional targets of HBO1 complex that are related to the cell cycle control. We investigated role of JADE1 in HAT activity of HBO1 and demonstrated that PHD zinc fingers of JADE1 are specifically required for HBO1 to acetylate histone H4 within a nucleosome. We proposed a hypothesis that unlike chromo- , bromo- , or SET-domains, the PHD zinc finger of JADE1 targets a HAT complex to the nucleosomal histones regardless of their modification state. This finding might unravel a novel mechanism to target nuclear protein complexes to chromatin by a subset of PHD zinc fingers. We are investigating a role of JADE1 PHD zinc fingers in histone acetylation by HBO1 complex.
Several HAT complexes have been linked to diseases, including cancers. Moreover, PHD zinc fingers of known HATs and other proteins such as p300, MOZ, MORF, AIRE, INGs are targets of mutations in several diseases. JADE1 and HBO1 may play a role in cells regeneration after various injuries. We are interested whether there is a disease relationship for HBO1-JADE1/2/3.
We are assessing potential role of HAT HBO1 complex in human tumor tissues and in animal models of acute kidney injury.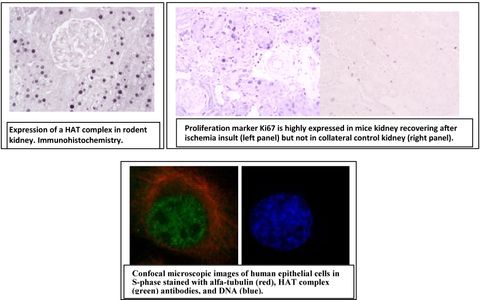 Members of the lab
Present:
Konstantine Spirin, Ph.D.
Research Scientist
Past:
Somdutta Mitra, M.S.
Lab Technician
Current Funding
Positions Available starting immediately:
Postdoctoral Fellow
Laboratory Technician
Graduate (Ph.D.) Student
Selected References
Foy RL, Song I, Chitalia VC, Cohen HT, Saksouk N, Cayrou C, Vaziri C, Cote J, Panchenko MV.: Role of JADE1 in the HAT HBO1 complex. J Biol Chem 2008 (in press).
Chitalia VC, Foy RL, Bachschmid MM, Zeng L, Panchenko MV, Zhou MI, Bharti A, Seldin DC, Lecker SH, Dominguez I, Cohen HT: Jade-1 inhibits Wnt signaling by ubiquitinating beta-catenin and mediates Wnt pathway inhibition by pVHL. Nature Cell Biol 2008 (in press)
DiCamillo SJ, Yang S, Panchenko MV, Toselli PA, Naggar EF, Rich CB, Stone PJ, Nugent MA, Panchenko MP.: Neutrophil elastase initiated EGFR/MEK/ERK signaling counteracts the stabilizing effect of autocrine TGF-β on tropoelastin mRNA in lung fibroblasts. Am J Physiol Lung Cell Mol Physiol.,2006: 291(2):L232-43.
Zhou M, Foy RL, Chitalia VC, Zhao J, Panchenko M.V., Wang H, Cohen HT: Jade-1, a candidate renal tumor suppressor that promotes apoptosis. PNAS. 2005: 2;102(31): 11035-40,
Panchenko, M.V., Zhou M.I., Cohen HT. von Hippel Lindau partner Jade-1 is a transcriptional co-activator with histone acetyl transferase activity. J Biol Chem. 2004: 279: 56032-56041.
DiCamillo SJ, Carreras I, Panchenko MV, Stone P, Nugent MA, Foster JA, Panchenko MP. Elastase-released Epidermal Growth Factor Recruits Epidermal Growth Factor Receptor and Extracellular Regulated Kinases to Down-regulate Tropoelastin mRNA in Lung Fibroblasts. J Biol Chem. 2002: 277:18938-18946;.
Panchenko MV, Farber HW, Korn J.H. Induction of heme oxygenase-1 by hypoxia and free radicals in human dermal fibroblasts. Am. J. Physiol. Cell Physiol. 2000; 278:C92-C101.
Panchenko MV, Stetler-Stevenson WG, Trubetskoy OV, Gacheru SN, Kagan HM. Metalloproteinase activity secreted by fibrogenic cells in the processing of prolysyl oxidase. Potential role of procollagen C-proteinase. J Biol Chem. 1996 271: 7113-7119.
Kagan HM, Reddy VB, Panchenko MV, Narasimhan N, Boak AM, Gacheru SN, Thomas KM. Expression of lysyl oxidase from cDNA constructs in mammalian cells: the propeptide region is not essential to the folding and secretion of the functional enzyme. J Cell Biochemistry. 1995 59:329-338.
Graven KK, Troxler RF, Kornfeld H, Panchenko MV, Farber HW. Regulation of endothelial cell glyceraldehyde-3-phosphate dehydrogenase expression by hypoxia. J Biol Chem. 1994 269:24446-24453.
Panchenko MV, Vinogradov A.D. Direct demonstration of enol-oxaloacetate as an immediate product of mammalian succinate dehydrogenase. FEBS Letters 1991 286:76-7