Scholar Achievements
BIRCWH scholars have thus far received over 16 million dollars in external funding from organizations that include American Cancer Society, NIDDK, NIDRR, NICHD, and both the Avon and Komen Foundation. These projects span a wide variety of topics. Some highlights include:
• Dr. Andrea Coviello received an R01 Grant from NIDDK for her research proposal entitled "Clinical Correlates of High and Low Testosterone in Women: Framingham Heart Study."
• Dr. Angela Jefferson received an R01 grant from the NIA for her research titled, "Cardiac function as a mechanism for maladaptive brain aging."
• Dr. Boynton-Jarrett's grant, "Social Ecology of Adolescent Obesity: Defining the Role of Adverse Social Settings and Social Street" was funded by the William T. Grant Foundation.
• Dr. Keysor's center grant, "Enhancing Activity and Participation among Persons with Arthritis (ENACT)" was funded by NIDRR.
• Dr. Angela Leung's "Iodine nutrition and thyroid disease during pregnancy and lactation" was awarded a K23 grant from NICHD.
News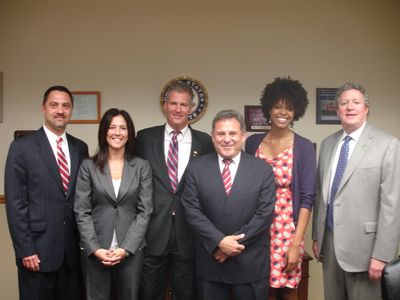 Dr. Tracy Battaglia recently met with Senator Scott Brown to discuss NIH funding for cancer research.
Awards
Michele David
• Appointed by Governor Deval Patrick to the Massachusetts Public Health Council
• William A. Hinton Award by the MA commissioner of Public Health
Tracy Battaglia
• Board Member, American Cancer Society New England Division Chair, Outcomes Workgroup Committee