About Us
The Boston University Medical Center/Armenia Medical Partnership is a multi-disciplinary collaborative program uniting two major Boston health-care institutions, Boston University School of Medicine and Boston Medical Center, with the University of Massachusetts Medical Center, Worcester, Massachusetts, and the Grigor Lusavorich (formerly Emergency Scientific) Medical Center, Yerevan, Armenia. The program's funding has come from a combination of grant support from the American International Health Alliance under cooperative agreement with USAID, the International Atomic Energy Agency, the Kazerian Fund, the Tavitian Foundation, in-kind support from the partners themselves, and donations from the Armenian community.
The Grigor Lusavorich Scientific Medical Center is an urban medical center comprising an 800-bed, multi-service hospital, ambulance service, and Level II-equivalent Trauma Center. Recently four other Yerevan medical institutions (N4 Maternity Hospital, N144 Adult Polyclinic, N5 Pediatric Polyclinic, and N6 Pediatric Neurological Hospital) merged with it to form an optimized medical system for the country. The complex is an Armenian National Institute of Health affiliate and the principal provider of education and training in emergency and trauma care for the Republic. Boston University Medical Center is an urban medical system, comprising school of medicine and public health, tertiary care hospital, City of Boston agencies such as the Boston EMS ambulance service, 22 affiliated regional hospitals, 12 neighborhood health clinics, and Boston's only certified Level I Adult and Pediatric Trauma Center.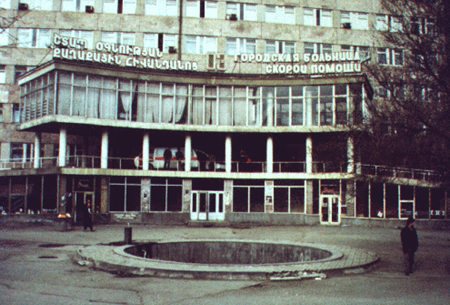 In June 1991, the Boston University School of Medicine, led by then-Dean Aram Chobanian, M.D., now President Emeritis of Boston University, signed affiliation agreements with the Yerevan State Medical Institute, the Postgraduate Medical Institute of Armenia and the Armenian Ministry of Health. These institutions provide the underpinning for the partnership's goals and objectives.
Under BUSM's affiliation agreement with the National Institute of Health of the Armenian Ministry of Health, the two institutions agreed to joint planning to achieve an understanding of medical education issues, develop and promote programs that identify current and future Armenian health needs, and develop responses which will aid those needs. Programs of exchange for faculty members and medical students are envisioned by the cooperation instruments.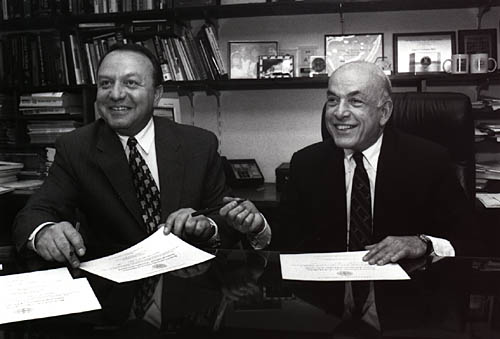 Pictured, left to right: May 1999, Dr. Derenik Dumanyan, Director, Armenian National Institute of Health, and Dr. Aram Chobanian, Dean, Boston University School of Medicine and Provost, Boston University Medical Campus, re-signing the affiliation agreement in Boston.