Charlie Yang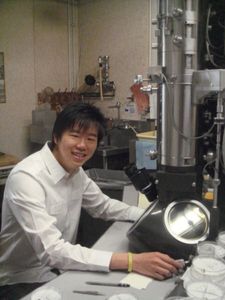 I am a Ph.D. student in the Anatomy and Neurobiology. I received a M.A. in Medical Science from Boston University School of Medicine and a B.S. in Biomedical Engineering – Premed from University of California – Irvine. My research interests is in glaucoma, specifically, to understand the cellular and physiologically mechanism that contributes to primary open angle glaucoma using ex vivo tissue and in vitro cell culture models.
Publications:
2. Lin, YS., Tang, CH., Yang, CY. , Wu LS., Hung, ST., Hwa, HL., Chu, PH. "Effect of Pre-Eclampsia-Eclampsia on Major
Cardiovascular Events among Peripartum Woman in Taiwan." American Journal of Cardiology . 2011 Jan;107(2):325-30.
1. Tang, CH., Wu, CS., Lee, TH., Hung, ST., Yang, CY. , Lee, CH., Chu, PH. "Preeclampsia-Eclampsia and the Risk of
Stroke Among Peripartum in Taiwan." Stroke.  2009 Apr; 40(4):1162-8.
Grant Award: Sigma Xi Grant-in-Aid