Mark Moss, Ph.D.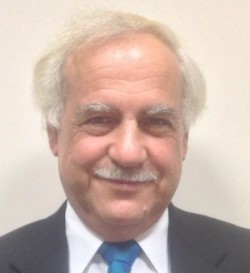 Waterhouse Professor and Chairman
Phone: 617-638-4200
Fax: 617-638-4216
Email: markmoss@bu.edu
Location: L-1004, BUSM
Dr. Moss received his doctorate in Psychology from Northeastern University and completed postdoctoral training at Beth Israel Hospital, Harvard Medical School in Neuroanatomy and Neuropsychology. He joined the Department of Anatomy and Neurobiology in 1982 and has served as its Chairman since 1998. Together with Dr. Douglas Rosene, Dr. Moss is co-director for the Laboratory for Cognitive Neurobiology. His studies focus on the neurobiology of learning and memory in non-human primate models, particularly with respect to aging and age-related disease. Specific interests include (1) the interaction of the prefrontal cortices with the medial temporal lobe limbic system in cognition; (2) the separate and combined effects of age and hypertension on cognition and integrity of the blood-brain barrier in a non-human primate model of hypertensive cerebrovascular disease and (3) parallel studies in normal aged humans and patients with MCI and Alzheimer's disease. Techniques include automated behavioral assessment, functional and structural MR imaging, and an array of immunocytochemical and related anatomical-morphological techniques. Dr. Moss is also a recipient of an NIH MERIT award for his work on aging and hypertension.
Dr. Moss in the leader of the Head and Neck section of the Medical Gross Anatomy Course, and co-directs graduate courses in the Neurobiology of Learning and Memory, Neurobiology of Aging, and Cognitive Neuroscience. He is the 2003 recipient of the Stanley L. Robbins Award and the 2004 Thomas Robitscher Faculty Award for Excellence in Teaching.
Dr. Moss is also part of a Departmental initiative that is partnered with the Carnegie Foundation to evaluate the Doctorate in Neuroscience at a national level. He serves on a variety of scientific and administrative committees at the national, community, university, and medical school levels. He is a member of the Academy of Advisors and is academic advisor for the Clinical Neuroscience Society at BUSM.