Departmental Programs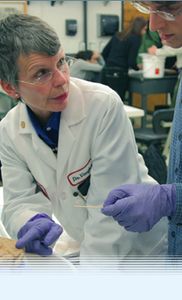 Our department awards both the M.A. and Ph.D. in Anatomy & Neurobiology. Doctoral students also have the option of receiving specialized training in Biomedical Instruction (our "Vesalius Program"), or combining their degree with a Ph.D. in Biomedical Neuroscience (by selecting the Neurobiology Track). Students who are pursuing a combined M.D./Ph.D. degree are also encouraged to complete their doctoral work in our department. In addition to training graduate students, our department is responsible for teaching a number of courses in the Medical, Dental and Graduate school that provide unique teaching opportunities for our students.
There are three tracks for doctoral training in our department; Anatomy, Anatomy & Neurobiology and Neurobiology. All three include core courses and electives.
The Vesalius Program is Master of Science degree focusing on the development of teaching skills for the biomedical sciences. The primary concentration of the Vesalius Program is comprised of three main components:
Graduate courses in biomedical sciences
Advanced teaching courses coupled with a one-on-one mentored teaching experience
Primary biomedical research
Starting in the Fall of 2014, a second concentration will be introduced comprised of courses focused on Educational Neuroscience. This course of study has been developed to introduce teachers to the methods and concepts of the Scoence of Learning.
We offer a wide range of courses for graduate students in Systems, Cognitive, and Developmental Neuroscience, the Anatomical Sciences, Neuroimaging, and Teaching Methods. In addition, our students have opportunities to assist or teach in the 1st year Medical and Dental School courses in Gross Anatomy, Microscopic Anatomy, and Neuroscience. Our department also co-sponsors the Program in Behavioral Medicine,  Mental Health Counseling, the Program in Bioimaging, Biomedical Forensics, Forensic Anthropology. These programs include a variety of state-of-the art courses – all of which are available to our students.
Please see Division of Graduate Medical Sciences for admission information and click the following for Financial Aid assistance.