GSDM Faculty Awarded Inaugural Seed Grants
The Boston University Henry M. Goldman School of Dental Medicine (GSDM) named three faculty members as winners of the inaugural Seed Funding Competition. GSDM's Research Endowment Fund awarded the 2012 winners $15,000 each in grant funds to enhance research at the school.
These grants are intended primarily to support new investigators but can also be used to fund new and exciting collaborations by established researchers.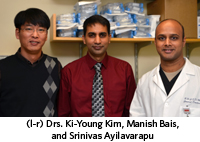 This year's recipients are Dr. Srinivas Ayilavarapu, Assistant Professor, Department of General Dentistry; Dr. Manish Bais, Research Assistant Professor, Department of Periodontology & Oral Biology, and Dr. Ki-Young Kim, Research Assistant Professor, Department of Molecular & Cell Biology.
Dr. Ayilavarapu's research project, "Periodontal disease and Type 2 Diabetes have excessive systemic inflammation and impaired resolution programs," will test the hypothesis that people with periodontal disease (PD) and type 2 diabetes (T2D) will present with systemic inflammation that fails to resolve and present with priming and aggregation of platelets, neutrophils and monocytes.
Dr. Bais's research project, "LOXL2 in anabolic response to osteoarthritis," will build on previous observations that LOXL2 is expressed in fracture healing and is a critical regulator and effector of chondrocyte development.
Dr. Kim's research project, "Control of ribosomal protein gene expression by transcriptional attenuation," will study a novel regulatory mechanism known as transcriptional attenuation. The authors have described the phenomena in yeast and now they will study various attenuation relief factors (a continuation of their previous work).
"The seed funding competition will help drive research momentum at the school," said Dr. Maria Kukuruzinska, Associate Dean for Research. "The proposals submitted were of a high standard and were reviewed for scientific merit and impact. We are very excited to fund three outstanding projects that can be developed into competitive proposals for extramural funding."
"I would like to congratulate the winners of the Seed Funding Competition," said Dean Jeffrey W. Hutter. "These vitally important research projects exemplify our steadfast commitment to research at the Henry M. Goldman School of Dental Medicine."
Submitted by Jackie Simon.