Postdocs Honored and Entertained During National Appreciation Day
On a beautiful fall day approximately 130 postdocs and those who support them wound their way around tables filled with ice cream and toppings, enjoying the jazz music provided by the band assembled by Dr. Rafael Ortega. This celebration, held on Monday, September 19 on Talbot Green, marked National Postdoc Appreciation Week.
The ice cream social was the first annual event organized in honor of BUMC postdocs. In 2009, the US House of Representatives in conjunction with the National Postdoctoral Association, an advocacy group based in Washington, DC passed a resolution declaring the third week of Septemberas National Postdoc Appreciation Week. Many universities and institutions supporting postdocs across the country held events honoring their work.
Kristina Brauburger who attended the ice cream social thanked the Office of Postdoctoral Affairs by expressing her gratitude, "Thanks so much for organizing this great event today!! It was such a nice little break in the sun and we loved the ice cream and the fact that there even was live music- that was truly amazing!! The info booths were a fantastic idea as well! Thanks for the great work you are doing for us – it's highly appreciated!" Kristina is a Postdoctoral Fellow in Dr. Elke Muhlberger's lab in the Department of the Microbiology at BUSM.
Kristina is one of 500 postdocs currently working on the Boston University Medical Campus. Postdocs are scholars with PhDs who are engaged in advanced training – under faculty mentors – to enhance the academic and professional skills they need to pursue their own career paths.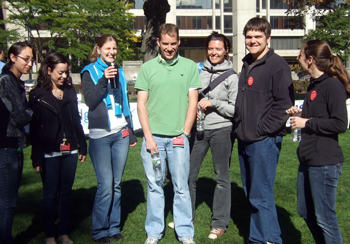 Ayele-Nati Ahyi, a postdoc in Dr. Mizgerd's lab in the Pulmonary Center at BMC was one of the eight postdocs who helped organize the event. "It was a great occasion to meet postdocs from different departments and get useful information at the information booths on many of the benefits offered to postdocs. I really enjoyed it, thanks!"
Claudia Thalmann, who works in Dr. Katharine Bossart's lab in the Department of Microbiology said, "The ice cream social was a fantastic event that succeeded in bringing together a diverse range of postdocs who we would not otherwise get to meet. The live music was a very special touch."
Adrian Oblak, a postdoc in Dr. Rosene's lab in the Department of Anatomy and Neurology noted, "This was a great event to recognize and raise awareness of the significant contributions that postdocs make to the scientific endeavor. There was a great turnout from all members of the BUMC community."
The ice cream social, was organized by the Division of Graduate Medical Sciences Office of Postdoctoral Affairs. "Thank you to all who contributed to this event. The ice cream social was an incredible success being and was the best-attended postdoc event since the launching of the Division's Office last July" said Yolanta Kovalko, Administrative Manager of the Office of Postdoctoral Affairs. For more information on the office contact Yolanta at yolanta@bu.edu.